Antelope Hunts
Book an Antelope Hunting Trip with Professional, Pre-Screened Big Game Hunting Guides and Outfitters
---
Antelope Hunting - North America's fastest big game animal. From southern Saskatchewan and Alberta in Canada south through the United States (central Texas west to northeastern California) and to northern Mexico, we've compiled a great selection of Antelope hunts, 45 in total. Fully-guided and semi-guided Antelope bow and gun hunts from reputable, pre-screened big game hunting guides and outfitters.
---
Top 10 Antelope Hunts (Gun)
---
Top 10 Antelope Hunts (Bow)
---
Antelope Guide (Antilocapra americana)The range of Pronghorn Antelope extends from southern Saskatchewan and Alberta in Canada south through the United States (central Texas west to northeastern California) and to northern Mexico.
Bands of pronghorns live in open grasslands, forming small single-sex groups in spring and summer, and gathering into large mixed herds, sometimes up to 1,000 strong, in the fall and winter; they may migrate up to 100 miles to avoid deep winter snow. Pronghorns live primarily in grasslands but also in brushland and deserts. They eat a wide variety of plant foods, often including plants that are unpalatable or toxic to domestic livestock (sheep and cattle) though they also compete with these for food.
The main color of adults is brown or tan, with a white rump and belly and two white stripes on the throat. A short dark mane grows along the neck, and males also sport a black mask and black patches on the sides of the neck. Both sexes have horns, although the horns of females are generally small or absent, and never exceed ear length. Female horns average about 5 inches and the prongs are not prominent. The horn begins to grow at the age of six months and will be shed by 18 months. The maximum horn height for males will occur within 2 to 3 years of age and will average about 10-12 inches.
Cougars, wolves, coyotes and bobcats, are the major predators. Golden Eagles have been reported to prey on fawns.
Pronghorns are now quite numerous and outnumbered people in Wyoming and parts of northern Colorado until just recently. It is widely hunted in western states for purposes of sport, population control, and food, as the meat is rich and lean.
If you've been wanting to go Antelope hunting, you're affordable adventure can start here at OutfitterPros.com
---
Spotlight Antelope Outfitter
Mangas Outfitters

Mangas Outfitters offers trophy Elk, Mule Deer, Coues Deer, Antelope, Bear, Oryx, Ibex and Cougar hunts in Units 12, 13, 15, 16, 17, 22 & 23. With over 25 years hunting trophy class animals in the same area we have the knowledge and expertise to make your hunt a memorable one.

Didn't draw your tag? No problem for us! We have access to over 120,000 acres of Private land with landowner tags available. You will be hunting elevations between 6,000 and 9,000 feet. Most of the hunting is in terrain that allows for walking, the use of a four-wheeler or four-wheel drive pick-up. All of our hunts include lodging and meals with modern accommodations.

Species Offered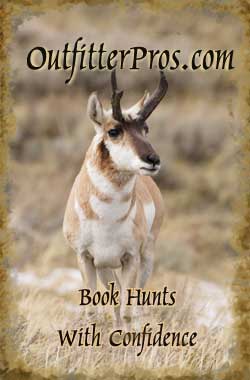 ---
Top Antelope Hunting Destinations
Gun and Bow hunts in Colorado, New Mexico, Montana, Wyoming, Canada, and more.
---

Win Hunting Gear
Each hunter that completes a Find A Hunt form qualifies for monthly and quarterly prizes in our Giveaway Contest - Grand Prize: TC Bone Collector Triumph Muzzle Loader.
Save Time
One simple form matches your hunt criteria with pre-screened professional Big Game Guides and Outfitters.
Save Money
After you complete the Find A Hunt form, we'll provide you a link to our Twitter page where we share Hunting Deals and Specials - early bird specials, cancellation hunts, DIY hunts, group specials, etc.
Book With Confidence
Each Big Game Outfitter must pass our exclusive 5 Point Outfitter Rating System in order to have their hunts listed in our database.
---
Proud Supporter of:
---
MORE Hunts
Click a Link Below for other Top Hunts