Elk (Cervus elaphus). OutfitterPros.com features 35 Elk hunts with 18 professional Colorado hunting guides and outfitters. All outfitters are licensed, insured, and have passed our exclusive 5 point rating system. These are dream Elk hunts in Colorado with some of the best Elk hunting outfitters and Elk hunting guides in the world!
---
Colorado Elk Hunts
---
Spotlight Colorado Elk Outfitter
Mountain View Adventures LLC

Mountain View Adventures provides the resources necessary for quality elk, deer, or bear hunting. In Colorado there are three types of hunters - those that hire an outfitter, those that hunt on their own, and those that use a drop-camp style hunt.

We are a drop-camp style hunt with major differences:

No Horses: Unlike typical drop-camp style hunting, you will not ride horses into camping areas. You can drive your vehicle right into the cabin area and unload your gear at your front door.

Accommodations: You'll be in cabins, not tents. Showers and restrooms are adjoining the cabins. All meals will be prepared for you (breakfast, sack lunch, and dinner). The property includes a dining hall and a social area for evening relaxation, plus a walk-in cooler where you can hang your harvested animal at a controlled temperature.

Hunting Transportation: You can hunt out of your own 4-wheel drive or bring your ATV; you can use either or you can hunt by foot depending on your hunting preference.

Hunting Area Accessibility: 350,000 acres of BLM land are adjacent to the property for your use. Some of the hunting areas are right outside the back door; others are a short drive away on an ATV or 4-wheel drive vehicle.

Our Knowledge of the Habitat: We've been in the area for more than 25 years so we can advise you about the best hunting areas and hunting in different weather conditions to increase the chance of a successful hunt.

Location, Location, Location: Location is important when choosing a place to hunt because elk and deer are migratory animals. If your drop camp is in the wrong area with the wrong weather (too hot, too much snow, etc.) your success rate will be lower. Our area has access to both summer and winter ranges and in fact we are located right in the middle of a major elk and deer migration route.

We look forward to providing you with an exceptional hunting experience at a fair price. We are extremely confident that you will have a great time with us.

Species Offered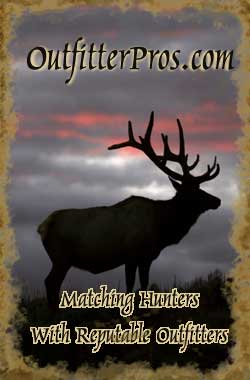 ---
Proud Supporter of:
---

Win Hunting Gear
Each hunter that completes a Find A Hunt form qualifies for monthly and quarterly prizes in our Giveaway Contest - Grand Prize: TC Bone Collector Triumph Muzzle Loader.
Save Time
One simple form matches your hunt criteria with pre-screened professional Big Game Guides and Outfitters.
Save Money
After you complete the Find A Hunt form, we'll provide you a link to our Twitter page where we share Hunting Deals and Specials - early bird specials, cancellation hunts, DIY hunts, group specials, etc.
Book With Confidence
Each Big Game Outfitter must pass our exclusive 5 Point Outfitter Rating System in order to have their hunts listed in our database.
---
Proud Supporter of:
---
MORE Hunts
Click a Link Below for other Top Hunts