Elk Hunts
Book a Elk Hunting Trip with Professional, Pre-Screened Big Game Hunting Guides and Outfitters
---
Elk Hunting - From Arizona and New Mexico, up through the Rocky Mountain States of Colorado, Wyoming, and Montana - and finally north into British Columbia and Alberta, Canada, we?e put together a great selection of Elk hunts, 69 in total. Elk hunts from reputable big game hunting guides and outfitters for that once-in-a-lifetime hunting experience. Guided and self-guided (drop camps) bow and gun Elk hunts.
---
Top 10 Elk Hunts (Gun)
---
Top 10 Elk Hunts (Bow)
---
Elk Guide (Cervus elaphus)One of the largest of game animals in North America, predominantly makes its home in the Rocky Mountain regions. In the deer family, only the moose is larger. Elk have two lesser known sub-species.
Roosevelt elk primarily inhabits the dense rain forests of Vancouver Island in British Columbia and the coastal regions of Oregon, Washington and northern California. Mature Roosevelt elk bulls have antlers that are more massive than the Rocky Mountain elk, however they will usually be shorter and not as widespread.
The Tule elk is very limited in its range and currently only inhabits California.
Elk range in forest and forest-edge habitat, feeding on grasses, plants, leaves, and bark. Although native to North America and eastern Asia, they have adapted well to countries where they have been introduced, including New Zealand and Argentina.
Adult elk usually stay in single-sex groups for most of the year. During the mating period known as the rut, mature bulls compete for the attentions of the cows and will try to defend females in their harem. Rival bulls challenge opponents by bellowing and by paralleling each other, walking back and forth. This allows potential combatants to assess the others antlers, body size and fighting prowess. If neither bull backs down, they engage in antler wrestling, and bulls sometimes sustain serious injuries. Bulls also dig holes in the ground, in which they urinate and roll their body. The urine soaks into their hair and gives them a distinct smell which attracts cows.
Dominant bulls follow groups of cows during the rut, from August into early winter. A bull will defend his harem of 20 cows or more from competing bulls and predators. Only mature bulls have large harems and breeding success peaks at about eight years of age. Bulls between two to four years and over 11 years of age rarely have harems, and spend most of the rut on the periphery of larger harems. Young and old bulls that do acquire a harem hold it later in the breeding season than do bulls in their prime. A bull with a harem rarely feeds and he may lose up to 20 percent of his body weight. Bulls that enter the rut in poor condition are less likely to make it through to the peak conception period or have the strength to survive the rigors of the oncoming winter.
Bulls have a loud vocalization consisting of screams known as bugling, which can be heard for miles. Bugling is often associated with an adaptation to open environments such as parklands, meadows, and savannas, where sound can travel great distances. Females are attracted to the males that bugle more often and have the loudest call. Bugling is most common early and late in the day and is one of the most distinctive sounds in nature, akin to the howl of the gray wolf.
Elk are ruminants and therefore have four chambered stomachs. Unlike whitetail deer and moose which are primarily browsers, elk have a similarity to cattle as they are primarily grazers, but like other deer, they also browse. Elk have a tendency to do most of their feeding in the mornings and evenings, seeking sheltered areas in between feedings to digest. Their diets vary somewhat depending on the season with native grasses being a year round supplement, tree bark being consumed in winter and forbs and tree sprouts during the summer. Elk consume an average of 20 pounds of food daily.
As is true for many species of deer, especially those in mountainous regions, elk migrate into areas of higher altitude in the spring, following the retreating snows, and the opposite direction in the fall. Hunting pressure also impacts migration and movements. During the winter, they favor wooded areas and sheltered valleys for protection from the wind and availability of tree bark to eat. Roosevelt elk are generally non-migratory due to less seasonal variability of food sources.
Spotlight Elk Outfitter
Elk Camp Outfitters,llc

Elk Camp Outfitters provides high quality big game hunts and horseback trips in the rocky mountains of Colorado. We pride ourselves in providing our clients the most enjoyable fair chase hunts with deluxe camps and high quality meals while maintaining high ethical standards.

Hunting is what we do best. Our hunting permits allow us to hunt almost 350,000 acres. This requires us to keep and maintain the best horses and mules in the business. While we never guarantee a kill our success rates are high each year.

Our guides are all well trained seasoned professionals who always seem to know where the game is. They will attend to your needs and prepare the horses each morning while you enjoy a full breakfast and prepare for the days hunt. After a long day the guides will take care of the heavy lifting and you can relax over a delicious dinner and take a hot shower.

Full service camps continued the success seen in past years. Many of our drop camp hunters were equally successful going home with full coolers. Whether you're looking for a fully guided hunt or prefer to guide yourself out of our camps, we are your go-to outfitter for rifle, muzzleloader, and archery needs in Colorado Game Management Units 042 and 421. Our massive permitted hunting area gives us unlimited hunting opportunities. From first time hunters to the seasoned hunter we strive to ensure each hunt is better than your last.

Our guides are friendly and knowledgeable. The cooks for the full service camps ensure each meal is prepared to the highest mountain standards. If you have any special dietary needs we are happy to assist you, please let us know prior to your arrival. Please contact us for further information. We look forward to helping you enjoy your next Colorado hunt.

Drop camp do it yourself hunts are what many people enjoy. We will pack your gear and food into one of our camps and point you in the direction of the game. Camps are the same as our full service camps minus the cooks and the food. Feel free to bring along a non-hunting friend to do the cooking at no extra charge. Small groups are fine but we will try to place at least 4 people in each drop camp.

We will handle packing your meat to the lodge where it can hang in cold storage until you return. Several meat-processing companies are located nearby. We have a meat grinder on site for those who prefer to process their own meat.

Species Offered

Bear - Black

Cow - Elk

Deer - Mule

DIY - Elk

DIY - Mule Deer

Elk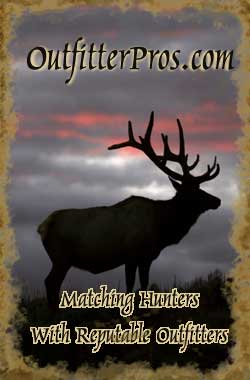 ---
Top Elk Hunting Destinations
Gun and Bow Elk hunts in Colorado, New Mexico, Montana, Wyoming, British Columbia, Saskatchewan, Alberta, Canada and more.
---
Proud Supporter of:
---

Win Hunting Gear
Each hunter that completes a Find A Hunt form qualifies for monthly and quarterly prizes in our Giveaway Contest - Grand Prize: TC Bone Collector Triumph Muzzle Loader.
Save Time
One simple form matches your hunt criteria with pre-screened professional Big Game Guides and Outfitters.
Save Money
After you complete the Find A Hunt form, we'll provide you a link to our Twitter page where we share Hunting Deals and Specials - early bird specials, cancellation hunts, DIY hunts, group specials, etc.
Book With Confidence
Each Big Game Outfitter must pass our exclusive 5 Point Outfitter Rating System in order to have their hunts listed in our database.
---
Proud Supporter of:
---
MORE Hunts
Click a Link Below for other Top Hunts