Turkey Hunts
Find a Turkey Hunting Trip with Professional, Pre-Screened Turkey Hunting Guides and Outfitters
---
Turkey Hunting - From Mexico up into the northern U.S. and into Canada, we've compiled a great selection of Turkey hunts, 45 in total. Turkey hunting trips from reputable Turkey Hunting Guides & Outfitters in Texas, Illinois, Kansas, Alabama, Missouri, Nebraska, & more. Guided and self-guided hunts for Easterns, Rio Grandes, Merriams, Goulds, and Osceolas.
---
Top Turkey Hunts
---
Wild Turkey Guide (Meleagris gallopavo) The wild turkey is native to North America. It is one of two species of turkey, the other being the Ocellated Turkey, found in Central America.


Adult male wild turkeys have a large, featherless, reddish head; a red throat in males; long reddish-yellow to greyish-green legs; and a black body. The head has fleshy growths called caruncles; in excited turkeys, a fleshy flap on the bill expands, becoming engorged with blood. Males have red wattles on the throat and neck. Each foot has three toes, and males have rear spurs on their lower legs.
Turkeys have a long, dark, fan-shaped tail and glossy bronze wings. The male is substantially larger than the female, and his feathers have areas of red, purple, green, copper, bronze, and gold iridescence. Female feathers are duller overall, in shades of brown and gray. Parasites can dull coloration of both sexes; in males, coloration may serve as a signal of health. The primary wing feathers have white bars. Turkeys have 5,000 to 6,000 feathers. Tail feathers have the same length in adults, different lengths in juveniles. Males typically have a "beard" consisting of modified feathers that show out from the breast. Beards average 9 inches in length. In some populations, 10 to 20 percent of females have a beard, usually shorter and thinner than that of the male. The adult male normally weighs from 11-24 lbs. The adult female is typically much smaller at 7-12 lbs. The record-sized adult male wild turkey, according to the National Wildlife Turkey Federation, was 38 lbs.
Flight and calls
Wild turkeys are surprisingly agile fliers and cunning, unlike their domestic counterparts. Turkeys are very cautious birds and will fly or run at the first sign of danger. Their ideal habitat is an open woodland or savanna, where they may fly beneath the canopy top and find perches. They usually fly close to the ground for no more than a quarter mile (400 m). Turkeys have many vocalizations: "gobbles," "clucks," "putts," "purrs," "yelps," "cutts," "whines," "cackles," and "kee-kees." In early spring, male turkeys, also called gobblers or toms, gobble to announce their presence to females and competing males. The gobble can carry for up to a mile. Males also emit a low-pitched "drumming" sound; produced by the movement of air in the air sack in the chest, similar to the booming of a prairie chicken. In addition they produce a sound known as the "spit" which is a sharp expulsion of air from this air sack. Hens "yelp" to let gobblers know their location. Gobblers often yelp in the manner of females, and hens can gobble, though they rarely do so. Immature males, called jakes, yelp often.
Food
Wild turkeys are omnivorous, foraging on the ground or climbing shrubs and small trees to feed. They prefer eating hard mast such as acorns, nuts, and various trees, including hazel, chestnut, hickory, and pinyon pine as well as various seeds, berries such as juniper and bearberry, roots and insects. Turkeys also occasionally consume amphibians and small reptiles such as snakes. Chicks have been observed eating insects, berries, and seeds. Wild turkeys often feed in cow pastures. They sometimes visit backyard bird feeders to search for seed on the ground. Turkeys are also known to eat a wide variety of grasses.
Turkey populations can reach large numbers in small areas because of their ability to forage for different types of food. Early morning and late afternoon are the desired times for eating.
Social structure and mating habits
Males are polygamous, they mate with as many hens as they can. Male wild turkeys display for females by puffing out their feathers, spreading out their tails and dragging their wings. This behavior is most commonly referred to as strutting. Their heads and necks are colored brilliantly with red, blue and white. The color can change with the turkey's mood, with a solid white head and neck being the most excited. They use gobbling, drumming/booming and spitting as sings of social dominance, and to attract females. Courtship begins during the months of March and April, which is when turkeys are still flocked together in winter areas.

Males may be seen courting in groups, often with the dominant male gobbling, spreading its tail feathers (strutting), drumming/booming and spitting. When mating is finished, females search for nest sites. Nests are shallow dirt depressions engulfed with woody vegetation. Hens lay a clutch of 10-14 eggs, usually one per day. The eggs are incubated for at least 28 days.

Predators of eggs and nestlings include Raccoons, Virginia Opossums, Striped Skunks, Gray foxes, raptors, Groundhogs, other rodents, spotted skunks, rat snakes, Gopher Snakes, and pinesnakes. Predators of both adults and young include Coyotes, Bobcats, Cougars, Golden Eagles and (with the exception of males) Great Horned Owls and red foxes. Humans are now the leading predator of adult turkeys.

The range and numbers of the wild turkey had decreased at the beginning of the 20th century due to hunting and loss of habitat. Game managers estimate that the entire population of wild turkeys in the United States was as low as 30,000 in the early 1900s. Game officials made efforts to protect and encourage the breeding of the surviving wild population. As wild turkey numbers rebounded, hunting was legalized in 49 U.S. states (excluding Alaska). In 1973 the total U.S. population was estimated to be 1.3 million, and current estimates place the entire wild turkey population at 7 million individuals. In recent years, "trap and transfer" projects have reintroduced wild turkeys to several provinces of Canada as well.
Subspecies
There are subtle difference in the coloration of the different sub-species of wild turkeys. The six subspecies are:
Eastern wild turkey
This was the turkey species first encountered in the wild by the Puritans. Range covers the entire eastern half of the United States; extending also into Southeastern Manitoba, Ontario, Quebec, and the Maritime Provinces in Canada. They number from 5.1 to 5.3 million birds. They were first named forest turkey in 1817, and can grow up to 4 feet (1.2 m) tall. The upper tail coverts are tipped with chestnut brown. The Eastern wild turkey is heavily hunted in the Eastern USA and is the most hunted wild turkey subspecies.
Osceola or Florida
Found only on the Florida peninsula. They number from 80,000 to 100,000 birds. This bird is named for the famous Seminole Chief Osceola, and was first described in 1980. It is smaller and darker than the Eastern Turkey. The wing feathers are very dark with smaller amounts of the white barring seen on other sub-species. Their overall body feathers are iridescence green-purple color.
Rio Grande
Ranges through Texas to Oklahoma, Kansas, New Mexico, Colorado, Oregon, and central and western California, as well as parts of a few northeastern states. Rio Grande Turkeys were also introduced to Hawaiʻi in the late 1950s. Population estimates for this subspecies range from 1,022,700 to 1,025,700. This sub-species is native to the central plain states. They were first described in 1879, and have relatively long legs. Their body feathers often have a green-coppery sheen to them. The tips of the tail and lower back feathers are a buff-very light tan color. Its habitats are brush areas next to streams, rivers or mesquite, pine and scrub oak forests.
Merriam's
Ranges through the Rocky Mountains and the neighboring prairies of Wyoming, Montana and South Dakota as well as much of the high mesa country of New Mexico. They number from 334,460 to 344,460 birds. Merriam's Turkeys live in Ponderosa Pine and mountainous regions. It was named in 1900 in honor of Clinton Hart Merriam, the first chief of the U.S. Biological Survey. The tail and lower back feathers have white tips. They have purple and bronze reflections.
Gould's
Native from central to northern Mexico and the southern-most parts of Arizona and New Mexico. Heavily protected and regulated. First described in 1856. They exist in small numbers in the U.S. but are abundant in Northwestern portions of Mexico. A small population has been established in southern Arizona. Gould's are the largest of the five sub-species. They have longer legs, larger feet, and longer tail feathers. The main color of the body feathers are copper and greenish-gold.
South Mexican
One of the few that is not found in the United States or Canada. The Aztecs domesticated the southern Mexican sub-species, giving rise to the domesticated turkey which is a popular main dish for the Thanksgiving holiday, held in November in the United States and October in Canada. The pilgrim settlers of Massachusetts brought farmed turkeys with them from England, descendants of the original Mexican domesticated turkeys introduced into Europe by the Spanish, not realising that they occurred wild in America

If you've been wanting to go Turkey hunting with a professional, reputable outfitter, you're affordable adventure can start here at OutfitterPros.com
---
Turkey Range
---
Spotlight Turkey Outfitter
Sugar Camp Outfitters

WHITETAIL HUNTING

If you take whitetail hunting seriously, then you will fit in here at Sugar Camp Outfitters. We may be a brand new outfitter, but we are not brand new hunters. We are 100% fair chase with thousands of acres to offer here in Southern Ohio. With all the hunting and scouting, we have come up with great game plans to score a buck of a lifetime.

Sugar Camp Outfitters is located in Southern Ohio, and we are right in the foothills of the Appalachians. We have the best of both worlds. The Rolling hills and deep woods of Southern Ohio provide great cover to accommodate a MONSTER BUCK along with farmlands of corn, bean, and alfalfa to offer plenty of food to grow a nice buck.

Here in southern Ohio, we are known for producing large bucks. At Sugar Camp Outfitters, we strive to harvest 120" minimum bucks and ensure they get the opportunity to mature to their fullest potential. Whether you are a gun or archery hunter, you will be impressed with our trophy class whitetail deer.

You will not find another outfitter that works as hard as we do to score you a trophy buck of a lifetime. Our hunting season doesn't start in September because we work hard all year around! Since we are a brand new outfitter, we will work harder than any other Ohio outfitter to get you the best odds to score a MONSTER BUCK!

In the spring, we put in many hours tending to our food plots, tracking the buck's travel patterns, moving stands, and familiarizing ourselves on the latest hunting technologies. We believe that scouting is a very important aspect of your hunting experience. We spend countless days in the woods getting an understanding of where the deer are located and what their travel patterns are.

Being hunters ourselves and growing up in the hills of southern Ohio, we have a lot to offer you. You will be working one on one with your guide as soon as you book a hunt. We will stay in contact with you all year long to address any questions you may have.

TURKEY HUNTING

Wild Turkey are very plentiful in the southern Ohio hill country. It is very common to see a flock of turkey pass by, even during deer season. We have several different tracks of land available to hunt for spring gobbler season that feature fields and tall timber.

We're convinced that a great tom is easily within reach in these hills and hollows. We currently offer only semi-guided hunts, as we renovate our lodging facilities for this year. Even in our semi-guided hunts, we will help direct you to the optimal spots for your exciting encounter with these magnificent birds. if you don't feel confident in calling your own bird feel free to contact us, as we have set up assisted programs to accommodate your needs.

Hunts Offered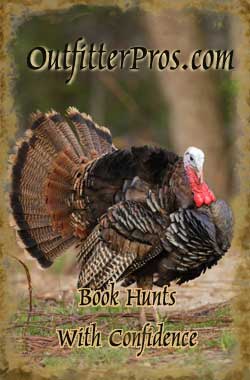 ---
Top Turkey Hunting Trips
Guided and self-guided turkey hunts for Eastern Wild Turkey, Rio Grande, Merriam's, Gould's, and Osceola turkeys.
---
Proud Supporter of:
---

Win Hunting Gear
Each hunter that completes a Find A Hunt form qualifies for monthly and quarterly prizes in our Giveaway Contest - Grand Prize: TC Bone Collector Triumph Muzzle Loader.
Save Time
One simple form matches your hunt criteria with pre-screened professional Big Game Guides and Outfitters.
Save Money
After you complete the Find A Hunt form, we'll provide you a link to our Twitter page where we share Hunting Deals and Specials - early bird specials, cancellation hunts, DIY hunts, group specials, etc.
Book With Confidence
Each Big Game Outfitter must pass our exclusive 5 Point Outfitter Rating System in order to have their hunts listed in our database.
---
Proud Supporter of:
---
MORE Hunts
Click a Link Below for other Top Hunts