Whitetail Deer Hunts
Book a Whitetail Deer Hunting Trip with Professional, Pre-Screened Big Game Hunting Guides and Outfitters
---
Whitetail Deer Hunting - From the trophy bucks in South Texas, and the big-bodied, heavy-horned bucks in the heartland states of Kansas, Iowa, Illinois, and Ohio and up into Alberta and Saskatchewan, Canada, we've put together a great selection of Whitetail Deer hunts, 162 in total. Whitetail Deer hunts from reputable big game guides and outfitters for that trophy room filling hunting experience. Guided and self-guided bow and gun Whitetail Deer hunts.
---
Top 10 Whitetail Deer Hunts (Gun)
---
Top 10 Whitetail Deer Hunts (Bow)
---
Whitetail Deer Guide (Alces alces) The species is most common east of the Rocky Mountains, and is absent from much of the western United States, including Nevada, Utah, California, Hawaii, and Alaska (though its close relatives, the mule deer and black-tailed deer, can be found there). It does, however, survive in aspen parklands and deciduous river bottomlands within the central and northern Great Plains, and in mixed deciduous riparian corridors, river valley bottomlands, and lower foothills of the northern Rocky Mountain regions from Wyoming to southeastern British Columbia. The conversion of land adjacent to the northern Rockies into agriculture use and partial clear-cutting of coniferous trees (resulting in widespread deciduous vegetation) has been favorable to the whitetail deer and has pushed its distribution to as far north as Prince George, British Columbia. Populations of deer around the Great Lakes have also expanded their range northwards, due to conversion of land to agricultural uses favoring more deciduous vegetation, and local caribou and moose populations. The westernmost population of the species, known as the Columbian whitetail deer, once was widespread in the mixed forests along the Willamette and Cowlitz River valleys of western Oregon and southwestern Washington, but today its numbers have been considerably reduced, and it is classified as near-threatened.
Whitetail deer are generalists and can adapt to a wide variety of habitats. The largest deer occur in the temperate regions of Canada and United States. The smallest deer occur in the Florida Keys and much of Central America and in South America. Deer from Central and South America generally have smaller tails and antlers.
North American male deer (also known as a buck) usually weighs from 130 to 300 pounds but, in rare cases, bucks in excess of 375 pounds have been recorded. The record-sized Whitetail Deer weighed just over 500 pounds and was found in Minnesota. The female (doe) usually weighs from 90 to 200 pounds. Length ranges from 62 to 87 inches, including the tail, and the shoulder height is 32 to 40 inches.
Males re-grow their antlers every year. Antlers begin to grow in late spring, covered with a highly vascularised tissue known as velvet. Bucks either have a typical or non-typical antler arrangement. Typical antlers are symmetrical and the points grow straight up off the main beam. Non-typical antlers are asymmetrical and the points may project at any angle from the main beam. These descriptions are not the only limitations for typical and a typical antler arrangement. The Boone and Crockett or Pope & Young scoring systems also define relative degrees of typicality and atypicality by procedures to measure what proportion of the antlers are asymmetrical. Therefore, bucks with only slight asymmetry will often be scored as "typical". A buck's inside spread can be anywhere from 3?5 in. Bucks shed their antlers when all females have been bred, from late December to February.
Females enter estrus, also called the "rut", in the fall, normally in late October or early November, triggered mainly by declining photoperiod. Sexual maturation of females depends on population density. Females can mature in their first year, although this is unusual and would occur only at very low population levels. Most females mature at one or, sometimes, two years of age. Most are not able to reproduce until six months after they mature.
Males compete for the opportunity of breeding females. Sparring among males determines a dominance hierarchy. Bucks will attempt to copulate with as many females as possible, losing physical condition since they rarely eat or rest during the rut. The general geographical trend is for the rut to be shorter in duration at increased latitude. There are many factors as to how intense the "rutting season" will be. Air temperature is a major factor of how intense the action will be. Anytime the temperature rises above 40 degrees Fahrenheit, the males will do much less traveling looking for females, or they will be subject to overheating or dehydrating. Another factor for the strength in rutting activity is competition. If there are numerous males in a particular area, then they will compete more for the females. If there are fewer males or more females, then the selection process will not need to be as competitive.
Whitetails communicate in many different ways including sounds, scent, body language, and marking. All whitetail deer are capable of producing audible noises, unique to each animal. Fawns release a high pitched squeal, known as a bleat, to call out to their mothers. Does also bleat. Grunting produces a low, guttural sound that will attract the attention of any other deer in the area. Both does and bucks snort, a sound that often signals danger. As well as snorting, bucks also grunt at a pitch that gets lower with maturity. Bucks are unique, however, in their grunt-snort-wheeze pattern that often shows aggression and hostility. Another way whitetail deer communicate is with their white tail. When a white-tail deer is spooked it will raise its tail to warn the other deer in the area that can see them.
In western regions of the United States and Canada, the whitetail deer range overlaps with those of the black-tailed deer and mule deer. White-tail incursions in the Trans-Pecos region of Texas has resulted in some hybrids. In the extreme north of the range, their habitat is also used by moose in some areas. Whitetail deer may occur in areas that are also exploited by elk such as in mixed deciduous river valley bottomlands and formerly in the mixed deciduous forest of Eastern United States.
As most hunters know, they are smart and elusive and big bucks can be difficult to hunt. Whitetails are favored among sportsmen because they are abundant, accessible and a challenge to hunt. North, south, east and west, hunters of all ages pursue this magnificent animal each fall.
If you've been wanting to go Whitetail Deer hunting in South Texas, the Mid-West, Canada, or anyplace else that offers great deer hunting, you're affordable adventure can start here at OutfitterPros.com
---
Spotlight Whitetail Deer Outfitter
Sunfish Valley Whitetails

Enter the Sunfish Valley Whitetail Zone - where fair chase is the only way to go. We offer fully guided whitetail hunts on 15,000 privately owned acres, or nearly 24 square miles, in South central Ohio. Our bucks are low pressure, big woods bucks that are given the opportunity to mature into trophy bucks.

Why We're Better

One of our best advantages? We don't lease the land we are outfitting... We Own It! With over 15,000 acres of land in a five county area, we don't have to play the numbers game like most outfitters just to pay their land leases.

When you book a guided bow hunt with us, there will never be more than 12 hunters on our 10,000 acres of bow hunting only property. This eliminates the problem of over-hunting the ground and chasing the deer off our properties. It also means that our hunters don't have to harvest our 2 1/2 and 3 1/2 year old bucks because they won't see anything better. This gives our bucks a chance to mature, reach their full potential, and pass on their genetics.

Another advantage for us is there is no pressure from other outfitters, unlike some areas of the country where almost every piece of ground is leased or hunted by an outfitter or hunting club. This keeps our deer relaxed, going about their daily routine like nature intended. We are the only outfitter in this area and one of our goals is to minimize pressure by keeping the number of hunters to a minimum.

Even with hunts fully booked, there will only be 12 hunters in camp at a time. That allows us to provide you with personal service. That's hard to get when there are 30 hunters in camp. Every evening you will get to sit down with the camp manager and your guide, discuss the days events and make plans for the next day. You will be a part of the decision making process during your hunt.

Our goal is for you to have a great hunt! We have experienced, mature guides -- not taxi drivers. Our hand-picked guides have a genuine love of the hunt and a desire to share that excitement with others. It is their job to try to get you on the buck of a lifetime! We do NOT allow our guides to hunt the properties that our clients hunt, so they are never scouting for themselves.

Species Offered

Deer - Whitetail

DIY - Whitetail

Turkey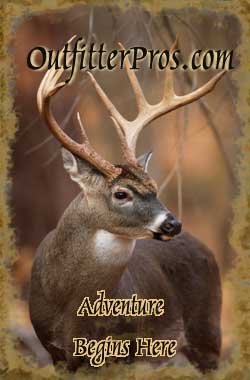 ---
Top Whitetail Deer Hunting Destinations
Gun and Bow hunts in Texas, Kansas, Illinois, Missouri, Kentucky, Ohio, Alberta & Saskatchewan Canada, and more.
---

Win Hunting Gear
Each hunter that completes a Find A Hunt form qualifies for monthly and quarterly prizes in our Giveaway Contest - Grand Prize: TC Bone Collector Triumph Muzzle Loader.
Save Time
One simple form matches your hunt criteria with pre-screened professional Big Game Guides and Outfitters.
Save Money
After you complete the Find A Hunt form, we'll provide you a link to our Twitter page where we share Hunting Deals and Specials - early bird specials, cancellation hunts, DIY hunts, group specials, etc.
Book With Confidence
Each Big Game Outfitter must pass our exclusive 5 Point Outfitter Rating System in order to have their hunts listed in our database.
---
Proud Supporter of:
---
MORE Hunts
Click a Link Below for other Top Hunts