Page Links:
OutfitterPros.com Membership Info
---
OutfitterPros.com - How to Join
First 3 Months 50% Off
Follow the easy 4 step process below to join OutfitterPros.com and start receiving high quality, low priced hunting leads from serious hunters from across the country. Since 2008, we've provided over 40,000 leads worth more than $200,000,000 for our member outfitters. To introduce you to our service, membership payments for your first 3 months will be discounted by 50%!
Multiple plans available for every budget. All plans include access to our Text Blast Service and discounts for our virtual online expo American Sportsman Expo.
Step 1:
Start Your Membership by Calling Us at (256)682-4490 or Emailing Us at outfitterpros@gmail.com.
Sign Up and Start Receiving High Quality, Detailed Hunting Leads via Email

First 3 Months Half-Price!
Most accounts can be setup within 24 hours, sometimes much Faster! No Setup Fees!

Pursue Only the Leads That Best Match Your Hunt Offerings
Pay a Low Monthly Fee for Unlimited Leads!
Membership plans are month to month with no long term obligations.
Promote your specials as they come up during the year via our affordable Email Blast service and/or our highly-effective Text Blast service.
Receive discounts to exhibit at our virtual online expo American Sportsman Expo.
Gain additional highly-targeted traffic to your website via links from our Online Hunting Directories (links provided below).
OutfitterPros.com Business Model
Our business model is the first of it's kind in the hunting industry. We chose this model because IT WORKS, and it's cost-effective to outfitters. Our business model is similar to ServiceMagic.com, an internet company that boasts a client base of over 50,000 home contractors. ServiceMagic provides it's member contractors over 300,000 leads a month from homeowners needing electrical repairs, plumbing repairs, new roofs, window replacements, etc.
We've gone one step forward compared to ServiceMagic, which charges for each and every lead. We provide unlimited leads for a low monthly fee.
High Quality, Detailed Hunt Leads
OutfitterPros.com qualifies hunt details with the hunter prior to providing them to our member outfitters:
Primary Species
Location
Weapon (Bow or Gun)
Hunt Timeframe (Month or Season and Year)
Budget per Hunter & Party Size
Additional details about the hunt in the Comment Field:

Secondary species
Preferred hunt method(s) & guide level
Trophy expectations
Lodging preferences
Tag Status (when applicable)
Non-hunting guests (when applicable)
Special needs/requests
etc.

Hunter's name, home state, email address, and phone number.
You will only receive leads that exactly match your hunt offerings - you won't get flooded with a bunch of irrelevent lead emails:
Species
Location
Weapon (Bow or Gun)
Hunter's budget must meet your hunt's price range
Monthly, Unlimited Lead Plans
One low monthly payment provides you with unlimited leads.
Membership plans range from $25 to $75/month (and remember, first 3 months are discounted 50%) depending on the outfitter's state and species offered.

For outfitters that offer hunts in multiple states, additional states are discounted 50%.

Custom packages can be arranged for special circumstances. We will consult with you to determine the best pacakge for your needs and your budget.
Your membership also includes Free Gold Listing(s) on our family of Hunting Directories. You will receive benefits from these directories in two ways: 1) Direct traffic to your website from hunters that visit the directory sites, 2) Increased Search Engine rankings for your website from the one-way links to your site.







PREMIUM Membership
Only $25/month in addition to your monthly fee. Premium membership includes:
Featured Listings on the Directory site(s), which includes Top of Category placement, website thumbnail graphic, detailed business description, link to your site, and a link to your photo gallery.
Outfitter Spotlights on our Hunting Information pages - click HERE to view these.
20% Discount on all Emails & Text Blasts
---
American Sportsman Expo - Save 30% via Special OutfitterPros.com Promo Code
OPro30
Join our Online Outdoor Expo and save 30% ($120) as an OutfittePros.com member. Use Promo Code "OPro30" at checkout. Regular price for booth in 1 Hall: $400. Only $280 w/ "OPro30" promo code. To sweeten the offer even more, buy a booth for the current 2023 online outdoor expo and your booth will good thru the 2024 show.
SHOW DETAILS
The American Sportsman Expo is the best value found in outdoor marketing.
Join the excitement in the industry's first and only Online Outdoor Expo. Promote your company via your virtual booth, door prizes, product showcases and virtual demos, informational webinars, and show specials. Virtual Booths are very easy to build - we can build yours at no extra charge if you prefer,
We're anticipating 40,000+ visitors to this year's Online Expo based on past attendance numbers and increased marketing dollars and strategic partnerships:
Our paid social media campaigns will be structured to create a buzz around expo features, contests, giveaways, exhibitors, and sponsors.
We will be utilizing a professional marketing team to promote the Expo and our sponsors/exhibitors, as well as drive up attendance.
Email campaigns - current databases of producer, sponsors, and conservation groups total well over 350,000 outdoor enthusiasts.
Free Admission to attendees coupled with simple Social Media logins.
Online contests and Social Media "Share" buttons in all Exhibitor Booths will help drive up attendance numbers substantially.
Expo Sponsorship opportunities available to maximize your company presence.
Interact with atendees w/ minimal time commitment.
During the Online Expo, your time requirements are very minimal. No need to be locked down in front of a computer. Attendees will interact with your virtual booth and associated elements as follows:
Via phone calls (mobile users can "Click to Call"). You can specify a business landline number and/or a mobile phone number.
Via text messages (mobile users only - can "Click to Text"). This feature is optional and is only implemented if you provide a mobile phone number as part of your Virtual Booth profile.
Via Contact Forms within your Virtual Booth that user's complete/submit. These forms are provided to you via email and contains the user's name, email address (and optional phone number), and comments/requests/questions.
Attendees can download your brochure from your Virtual Booth, if provided.
Via Contact Forms on each of your Optional Show Specials and Featured Products.
You will be provided all of the email addresses for all attendees that register to win your door prize(s) - Optional.
Attendees can click on any of the following links (as applicable) within your Virtual Booth for additional information about your business:

Website
Facebook Page
Twitter Page
Instagram Page
Youtube Channel
Booth Mini Photo Gallery
Booth Youtube Videos
Donate a hunt (or fishing trip) for the Expo Door Prize Giveaway contest
Your company will be promoted as an Expo Sponsor ($1000 value) - your banner will be displayed in the Rotating Expo Sponsor Banner that is displayed on every page of the Expo website and your Virtual Booth will receive better placement within the Expo Hall(s). Expo Door Prize pages garner more views than any other Expo feature. Additionally, many door prize winners will bring one or more paying friends/family members with them, with potential of becoming repeat clients.
Join our Online Outdoor Expo and save 30% ($120) as an OutfittePros.com member.
Use Promo Code "OPro30" at checkout.
Regular price for booth in 1 Hall: $400.
Booth only $280 w/ "OPro30" promo code.
BOGO: to sweeten the offer even more, buy a booth for the current 2023 online outdoor expo and your booth will good thru the 2024 show.
Click HERE or on Logo above - Call us at (256)682-4490 with any questions.
---
OutfitterPros Text Blast Service - THE Best Way to Target Today's Hunters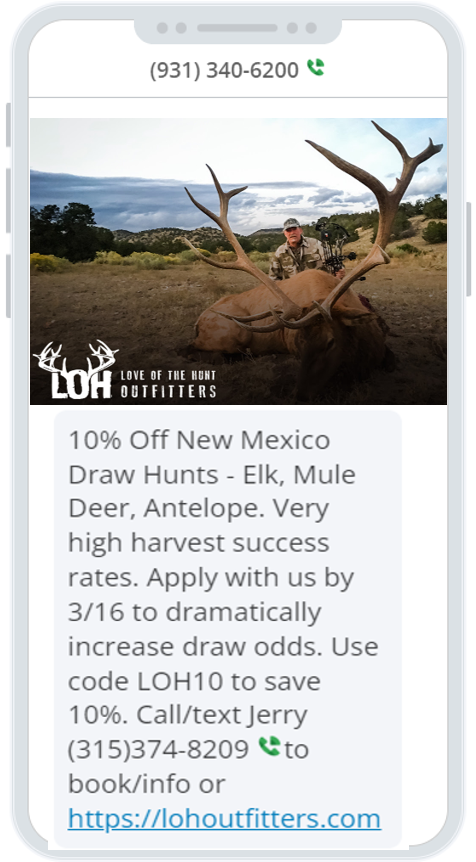 30,000 opt-in cell phone numbers in our database from leads entered by hunters over the last 14 years.
Instantly market your hunts/specials DIRECTLY to hunters' cell phones - VERY effective
Available to all member outfitters
Affordable - cost of text blast (up to 160 characters) starts at 15 cents per text.
Multi-media blasts, which includes graphics and up to 240 text characters, also available for 25 cents per cell phone number.
Target our hunter database demographics to maximize your text blast success (1,000 minimum per blast):

Species (i.e. Whitetail, Elk, Moose, etc)
Weapon (Gun or Bow)
Low, Medium, or High Dollar Hunt Budgets
Hunters' home state
---
OutfitterPros Email Blast Service
Market your hunts/specials via Email Blast to our entire hunter database.
Available to all member outfitters
Cost: $500 per blast
---
Future Plans
We believe we offer the best value in the industry. Many of our member outfitters that have tried the competition have told us so. But we're not content to stay with the status quo. We're continually adding new services and features. Future plans include:
Increasing our marketing budget to drive more traffic to the site, which in turn means more leads to our member outfitters.
Outfitter Rewards Program that can be cashed in for Text Blasts. Membership payments, outfitter referrals, placement of OutfitterPros.com banner on outfitter's website will all earn points in the program.
Step 2:
We'll contact you to start the application process.
To be accepted into our program, you must agree to abide by our Outfitter Code of Ethics and our Terms of Service
OutfitterPros.com Code of Ethics
I will comply with all Federal, State, and local game rules and regulations.
I will maintain liability insurance and all required permits and licenses.
I will provide my guest with the utmost in service, safety and value.
I will not deceive or mislead clients regarding my prices and/or services, to include harvest/success rates, quantity of game, and quality of game in my hunting area.
Upon request, I will provide a prospective client with a list of references of hunters who have recently hunted with me. References will be hunters that are not related to me and also not associated with my business in any way
I will inform clients about events beyond my control which may adversely affect their experience, including weather, lack of game/fish, or other factors.
I will do my best to preserve the delicate balance between wildlife, habitat and humans.
We maintain the right to audit your business at any time to confirm you have all required licenses and permits and to confirm current liability insurance.
Hunting leads from OutfitterPros.com are to be used exclusively by the registered outfitter. Transfer or sale of leads to other parties is strictly prohibited.
We maintain the right to cancel or refuse membership for violation of our Code of Ethics, violation of our Terms of Service, or for any other reason at our sole discretion.
Payment methods accepted: Visa, MasterCard, Discovery, PayPal, Checks, and Money Orders

Step 3:
Once you're approved, we'll create an account for you and add your hunts to our database and also add your website to all applicable Hunting Directories.
All species you offer
Locations where your hunts are conducted. Multiple locations are supported for outfitters that offer hunts in multiple states/provinces.
Price ranges for bow and gun hunts - obtained from your website or from price list that your provide via email
We'll request your credit card info which will be used to pay for your monthly plan. All plans are month to month with no long term obligations. Credit cards have been proven to be safer than mailing checks, they are also much more convenient. Upon request, we can provide several business references for member outfitters that have been utilizing our service for over three years. We also accept payment via PayPal and personal or company checks.
If you'd like to participate in our virtual online expo, we can build your virtual booth for you at no extra charge.
Step 4:
Start viewing high quality leads and pursue only the ones that best match your hunts, hunt prices, open dates, and other hunter preferences.
You will receive your leads via email. In addition, you will be able to view and manage you leads via your online account, our exclusive "Hunter Lead Management System".
Only pursue leads that provide the best match to your hunt offerings and hunt availability for the timeframe requested by the hunter.
The hunter will enter into a contract directly with you.
Receive the hunter's deposit.