Antelope Hunts
Book an Antelope Hunting Trip with Professional, Pre-Screened Big Game Hunting Guides and Outfitters
Antelope Hunting
North America's fastest big game animal. From southern Saskatchewan and Alberta in Canada south through the United States (central Texas west to northeastern California) and to northern Mexico, we've compiled a great selection of Antelope hunts, 43 in total. Fully-guided and semi-guided Antelope bow and gun hunts from reputable, pre-screened big game hunting guides and outfitters.
---
Top 10 Antelope Hunts (Gun)
---
Top 10 Antelope Hunts (Bow)
---
Antelope Guide (Antilocapra americana)
The range of Pronghorn Antelope extends from southern Saskatchewan and Alberta in Canada south through the United States (central Texas west to northeastern California) and to northern Mexico.
Bands of pronghorns live in open grasslands, forming small single-sex groups in spring and summer, and gathering into large mixed herds, sometimes up to 1,000 strong, in the fall and winter; they may migrate up to 100 miles to avoid deep winter snow. Pronghorns live primarily in grasslands but also in brushland and deserts. They eat a wide variety of plant foods, often including plants that are unpalatable or toxic to domestic livestock (sheep and cattle) though they also compete with these for food.
The main color of adults is brown or tan, with a white rump and belly and two white stripes on the throat. A short dark mane grows along the neck, and males also sport a black mask and black patches on the sides of the neck. Both sexes have horns, although the horns of females are generally small or absent, and never exceed ear length. Female horns average about 5 inches and the prongs are not prominent. The horn begins to grow at the age of six months and will be shed by 18 months. The maximum horn height for males will occur within 2 to 3 years of age and will average about 10-12 inches.
Cougars, wolves, coyotes and bobcats, are the major predators. Golden Eagles have been reported to prey on fawns.
Pronghorns are now quite numerous and outnumbered people in Wyoming and parts of northern Colorado until just recently. It is widely hunted in western states for purposes of sport, population control, and food, as the meat is rich and lean.
---
Spotlight Antelope Outfitter
DD Trophy Deer Outfitters
The DD Ranch offers a 4-night 5-day semi-guided hunting package for trophy Mule Deer and Whitetails. This semi-guided package includes all meals, lodging, and popular beer and soda beverages at the end of the day. The DD Ranch does offer guided and unguided hunts but the basic package is a semi-guided hunt. The DD Ranch consists of 70,000 acres of privately owned land in western Nebraska that sits adjacent to tens of thousands of acres of public land, giving our customers an unlimited amount of hunting ground. We are located near Chadron, Nebraska, which is on the Wyoming and South Dakota border. The DD takes a very limited number of hunters a year on the ranches to ensure quality trophy deer every year for every hunter. Only trophy deer are harvested. Our deer are 100% wild and not fenced. This is a TRUE hunt!! The DD Ranch also provides combination South Dakota and Nebraska deer, turkey and antelope hunts so hunters can have a double state grand slam!!

Being a hunter myself, I believe that every hunter wants to have a shot at a trophy deer and the DD provides that opportunity. The DD Ranch is a new hunting ranch and 2001 was the first year we took out hunters. Over the past 9 years, the DD has offered MANY TROPHY Whitetail and Mule Deer as well as MANY Merriam turkeys and antelope so I decided to start up a hunting camp. The DD Ranch requires each deer that is harvested to have a minimal of 4 points on at least one side. This will ensure trophy deer every year. Because the DD is a well know proven successful guide service and takes only a limited amount of hunters, we recommend that you book early.

The DD believes in superior hospitality. We will cater to almost all reasonable requests. We want our hunters to leave our ranches and honestly say that they had the hunt of their life. The DD will provide transportation from Chadron, NE and Rapid City, SD. We also provide all transportation on the ranches and the use of all terrain vehicles are used to transport downed game out of the field. We want our hunters to have the time of their life while away from home. We believe an excellent deer hunt requires more then just trophy deer. The fun really starts at the end of each day with a hot meal and all the beverages you want. We house our hunters in our main lodge, bed and breakfast facilities, and hotels depending on time of year and number of hunters in camp. All We want our hunters to become lifelong friends so I guarantee that our hunters will be catered to in the fullest. Do not be afraid to ask! We will try to accommodate to any request to ensure that your hunt was a success.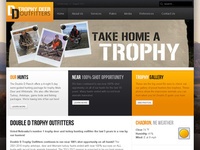 Species Offered
---
Antelope
Coyote
Deer - Mule
Deer - Whitetail
Mountain Lion
Pheasant
Prairie Dog
Turkey
---
For ALL Big Game, Waterfowl, Upland Bird, Varmint, and Small Game Hunts, visit Find A Hunt