Black Bear Hunts
Book a Black Bear Hunting Trip with Professional, Pre-Screened Big Game Hunting Guides and Outfitters
Black Bear Hunting
From Maine up to New Brunswick, across all of Canada to British Columbia, Alaska and several Rocky Mountain states, we've compiled a great selection of Black Bear hunts, 127 in total. Black bear hunts from reputable big game hunting guides and outfitters to bag that big bruin for the wall mount or rug for the floor. Guided and self-guided bow and gun black bear hunts.
---
Top 10 Black Bear Hunts (Gun)
---
Top 10 Black Bear Hunts (Bow)
---
American Black Bear Guide (Ursus americanus)
The American Black Bear (Ursus americanus) is the most common bear species native to North America. It lives throughout much of the continent, from northern Alaska south into Mexico and from the Atlantic Ocean to the Pacific Ocean. This includes 41 of the 50 U.S. states, all Canadian provinces except Prince Edward Island, and portions of northern Mexico. Populations in the Southern United States remain in the protected mountains and woodlands of parks and preserves, though bears will occasionally wander outside the parks' boundaries and have set up new territories, in some cases on the margins of urban environments in recent years as their populations increase.
The American Black Bear usually ranges in length from 5 to 6 ft and typically stands about 2.5 to 3 ft at the shoulder. Standing up on its hind feet, a Black Bear can be up to 7 ft tall. Females are on average about 33% smaller than males. Females weigh between 100 and 400 lbs; males usually weigh between 150 and 600 lbs. Adult black bears can reach 660 lbs, but exceptionally large males have been recorded from the wild at up to 8 ft long and at least 800 lbs. The biggest American Black Bear ever recorded was a male from North Carolina that weighed 880 lbs.
It has an excellent sense of smell. Though they generally have shaggy black hair, the coat can vary in color from white through chocolate-brown, cinnamon-brown, and blonde (found mostly west of the Mississippi River), to black in the east (the same is generally true in Canada, the border being between Manitoba and Ontario). They occasionally have a slight V-shaped white chest blaze. The tail is about 5 inches long.
Black bears are found in a wide variety of habitats across their range. They prefer forested and shrubby areas but they are also known to live on ridgetops, in tidelands, burned areas, riparian areas, agricultural fields, and, sometimes, avalanche chutes. Black bears can be found from hardwood and conifer swamps to the rather dry sage and pinyon-juniper habitats in the western states. Black bears typically "hibernate" during winter in hollowed-out dens in tree cavities, under logs or rocks, in banks, caves, or culverts, and in shallow depressions. Dens are normally not reused from one year to the next. While they do not eat, drink, defecate, or urinate during hibernation, it is not the true hibernation of smaller mammals since their body temperature does not drop significantly and they remain somewhat alert and active. Females give birth and nurse their young while hibernating.
Black bears are omnivores whose diet includes plants, meat, and insects. Their diet typically consists of about 10-15% animal matter. They are apex predators in North America, with the exception of areas where they coexist with the brown bear. The black bear eats a wide variety of foods, mainly herbs, nuts and berries.
In some areas, Black Bears share their range with the Brown Bear. Due to their smaller size, Black Bears are at a competitive disadvantage against Brown Bears in open, non-forested areas. Although displacement of black bears by Brown Bears has been documented, actual killing of Black Bears by brown bears has only occasionally been reported. The diurnal (movement in the morning and evening) Black Bear's habit of living in heavily forested areas as opposed to the largely nocturnal brown bear's preference for open spaces usually ensures that the two species avoid confrontations in areas where they co-exist.
Black Bears also co-exist with cougars and may compete with them over carcasses. Like Brown Bears, they will sometimes steal kills from cougars. One study found that both bear species visited 24% of cougar kills in Yellowstone and Glacier National Parks, usurping 10% of carcasses. However, Black Bears and cougars rarely engage in violent combat with each other and usually try to scare each other with bluff charges, growls, swipes, etc.
If you've been wanting to go Black Bear hunting, you're affordable adventure can start here at OutfitterPros.com
---
Spotlight Black Bear Outfitter
Bitterroot Mountain Outfitters Inc
Any hunt that you book with an outfitter, it seems like it is never long enough. It's the memories you take home with you that make it not only last a lifetime but generations. We want to give you memories that you can take and pass down for generations to come. To do so, you will be hunting in some of the most pristine area that Idaho has to offer. Vast mountains covered by healthy forests, streams, and rivers, that provide a home for such amazing creatures. Our area consists of 167 square miles, and absolutely no roads that go through it! Everything is done by foot and horseback.

We offer guided hunts for Elk, Bear, Deer, Wolf and Cougar in the Bitterroot Mountain area of Idaho. We also can accommodate those who would like an unguided hunt, via a drop camp.

All elk hunts are 7 days. Guided or non-guided, you will arrive on the first day and ride into camp (do not expect to hunt on the first day), hunt the next 5 days, and then pack out and leave on the 7th day.

Deer hunting in Northern Idaho can be a real adventure. We hunt deer in Units 7, 9 and 10. The upper St. Joe River is known for its majestic whitetail and mule deer. We hunt these animals mostly on foot and some horse back, depending on the terrain. To be able to hunt deer in this area you should be in good physical condition due to the rugged terrain. We use the 'spot and stalk' method, and will most likely go where horses might not be able to get into.

Spring is the season for Bear Hunts. The bears in our area are 50% color phase and with the population of bears in great condition every year in Idaho means your chance of harvesting a bear is EXCELLENT! We are also proud to be able to say that for the past three years running, our bear harvest rate is better than it ever has been!

Talk about an adrenaline rush! Imagine being in a truck or on snowmobiles with dogs. Then all of a sudden, the dogs start baying because they caught the scent of a cougar. That's when you know the chase is on!

Come hunt turkeys in Eastern Washington. We have over 25 years experience with hunting these gorgeous birds. Most hunts are with a shotgun, but we can accommodate an archery hunter. We do provide meals and lodging. You will need to bring personal gear, bed roll, and weapon (a more detailed list will be given upon booking). Hunts are 3 days. If you are flying, we can arrange to pick you up and drop you off at the airport for an extra fee.

Visit our website for additional information on all of our big game hunts.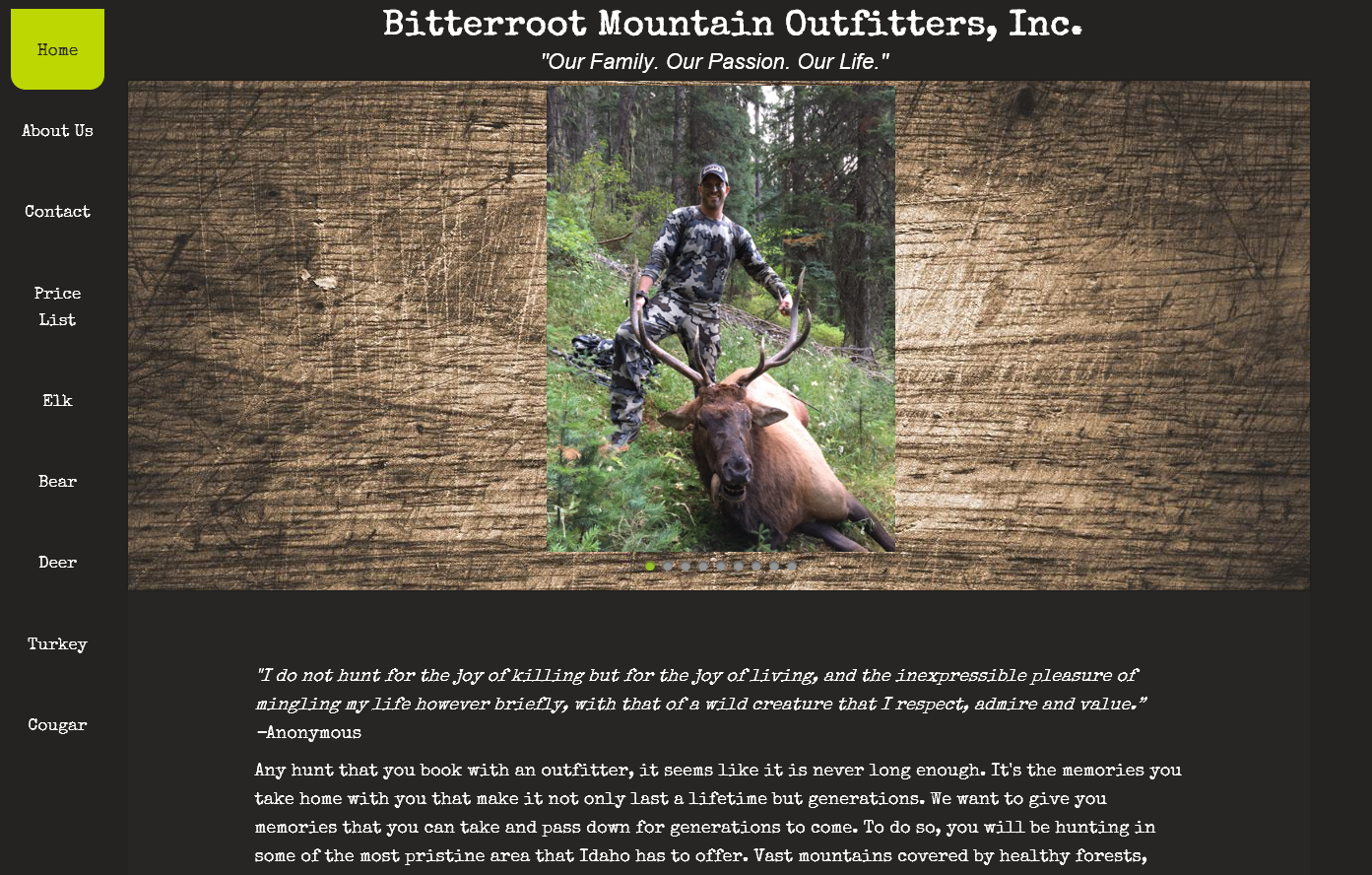 Species Offered
---
Bear - Black
Deer - Mule
Deer - Whitetail
DIY - Elk
Elk
Moose
Mountain Lion
Turkey
---
For ALL Big Game, Waterfowl, Upland Bird, Varmint, and Small Game Hunts, visit Find A Hunt