British Columbia Hunting Guides and Outfitters
Find and Book a Hunting Trip with Professional, Pre-Screened British Columbia Hunting Guides / Outfitters.
British Columbia Hunting
In addition to Rocky Mountain Elk hunting in British Columbia, our outfitters and guides offer Stone Sheep, Bighorn Sheep, Free Ranging Bison, Canadian Moose, Mountain Caribou, Shiras Moose, Grizzly Bear, Black Bear, Whitetail Deer, Mule Deer, Mountain Goat, Mountain Lion, Lynx, Bobcat and Wolf hunting trips. There are plenty of professional, experienced hunting guides and outfitters in British Columbia to assure your hunt is safe and successful. We'll help you find a professional British Columbia Hunting Guide / Outfitter for your next hunt, simply click Find A Hunt or select a gun or bow below after reviewing the British Columbia Hunting information.
---
British Columbia Hunting Summary
Mountain ranges, glaciers, lakes, rivers, coastal inlets and forests are all waiting for you. Hunting, fishing, horseback riding, photo safaris, wildlife viewing, backcountry camping and alpine pack trips are all wilderness experiences that many BC outfitters offer.
British Columbia is a province 365,000 square miles in size, that has scenery and a diversity of species like no other place on earth. Yukon has 207,000 square miles of rugged wilderness providing plenty of hunting and fishing opportunities in a territory with only 31,000 people, while the Northwest Territories, right next door with an even larger area, also offers some excellent northern hunting and fishing experiences.
The diversity of British Columbia's game species are unmatched anywhere in the world and include Dall Sheep, Stone Sheep, California and Rocky Mountain Bighorn Sheep, mountain Goat, Elk, Deer, Caribou, Moose, Cougar, Black Bear, Grizzly Bear and Wolf. World class fishing, both saltwater and freshwater, is also offered by many guide outfitters in the province.
---
British Columbia Hunts
Select the desired species & weapon below and click "Go"
British Columbia Elk Hunts
British Columbia Mule Deer Hunts
British Columbia Moose Hunts
British Columbia Mountain Goat Hunts
British Columbia Black Bear Hunts
British Columbia Brown Bear Hunts
---
Spotlight British Columbia Outfitter
Big Country Outfitters
Welcome to Big County Outfitters! We are located in central British Columbia on the North Chilcotin plateau. Our exclusive guide area consists of open grassy side hills, spruce swamps, heavy timber, lakes and streams, and logging cut blocks of various ages....simply put, "Prime Big Game Country". This area has been made famous in both historic ranching and guiding, in numerous books.

We have a comfortable and efficient guiding camp that can be reached by vehicle from Quesnel BC. For clients wishing to fly in from Vancouver, we arrange pick-up and delivery from the airport.

We are committed to working hard, continuous improvement, and having a great time. Our guides are local and have extensive knowledge of the area and the game. Our honesty, integrity, and open communication set us apart from other outfits.

At Big Country, we specialize in Western Canadian Moose and Trophy Mountain Black Bear hunts!

Whether you hunt with rifle, bow, or black powder... single species or combination hunts... we are the outfitters for you.

Not only do we offer hunts on our exclusive guide area, but we also arrange and fully outfit hunts for other big game species. Grizzly bear, Mountain goats, Elk, Sheep; we work closely with some of the best areas to bring clients to their ultimate big game goals.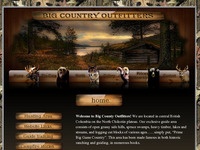 Species Offered
---
Bear - Black
Deer - Mule
Moose
Mountain Goat
---
For ALL Big Game, Waterfowl, Upland Bird, Varmint, and Small Game Hunts, visit Find A Hunt