Elk Hunts
Book a Elk Hunting Trip with Professional, Pre-Screened Big Game Hunting Guides and Outfitters
Elk Hunting
From Arizona and New Mexico, up through the Rocky Mountain States of Colorado, Wyoming, and Montana - and finally north into British Columbia and Alberta, Canada, we put together a great selection of Elk hunts, 96 in total. Elk hunts from reputable big game hunting guides and outfitters for that once-in-a-lifetime hunting experience. Guided and self-guided (drop camps) bow and gun Elk hunts.
---
Top 10 Elk Hunts (Gun)
---
Top 10 Elk Hunts (Bow)
---
Elk Guide (Cervus elaphus)
One of the largest of game animals in North America, predominantly makes its home in the Rocky Mountain regions. In the deer family, only the moose is larger. Elk have two lesser known sub-species.
Roosevelt elk primarily inhabits the dense rain forests of Vancouver Island in British Columbia and the coastal regions of Oregon, Washington and northern California. Mature Roosevelt elk bulls have antlers that are more massive than the Rocky Mountain elk, however they will usually be shorter and not as widespread.
The Tule elk is very limited in its range and currently only inhabits California.
Elk range in forest and forest-edge habitat, feeding on grasses, plants, leaves, and bark. Although native to North America and eastern Asia, they have adapted well to countries where they have been introduced, including New Zealand and Argentina.
Adult elk usually stay in single-sex groups for most of the year. During the mating period known as the rut, mature bulls compete for the attentions of the cows and will try to defend females in their harem. Rival bulls challenge opponents by bellowing and by paralleling each other, walking back and forth. This allows potential combatants to assess the others antlers, body size and fighting prowess. If neither bull backs down, they engage in antler wrestling, and bulls sometimes sustain serious injuries. Bulls also dig holes in the ground, in which they urinate and roll their body. The urine soaks into their hair and gives them a distinct smell which attracts cows.
Dominant bulls follow groups of cows during the rut, from August into early winter. A bull will defend his harem of 20 cows or more from competing bulls and predators. Only mature bulls have large harems and breeding success peaks at about eight years of age. Bulls between two to four years and over 11 years of age rarely have harems, and spend most of the rut on the periphery of larger harems. Young and old bulls that do acquire a harem hold it later in the breeding season than do bulls in their prime. A bull with a harem rarely feeds and he may lose up to 20 percent of his body weight. Bulls that enter the rut in poor condition are less likely to make it through to the peak conception period or have the strength to survive the rigors of the oncoming winter.
Bulls have a loud vocalization consisting of screams known as bugling, which can be heard for miles. Bugling is often associated with an adaptation to open environments such as parklands, meadows, and savannas, where sound can travel great distances. Females are attracted to the males that bugle more often and have the loudest call. Bugling is most common early and late in the day and is one of the most distinctive sounds in nature, akin to the howl of the gray wolf.
Elk are ruminants and therefore have four chambered stomachs. Unlike whitetail deer and moose which are primarily browsers, elk have a similarity to cattle as they are primarily grazers, but like other deer, they also browse. Elk have a tendency to do most of their feeding in the mornings and evenings, seeking sheltered areas in between feedings to digest. Their diets vary somewhat depending on the season with native grasses being a year round supplement, tree bark being consumed in winter and forbs and tree sprouts during the summer. Elk consume an average of 20 pounds of food daily.
As is true for many species of deer, especially those in mountainous regions, elk migrate into areas of higher altitude in the spring, following the retreating snows, and the opposite direction in the fall. Hunting pressure also impacts migration and movements. During the winter, they favor wooded areas and sheltered valleys for protection from the wind and availability of tree bark to eat. Roosevelt elk are generally non-migratory due to less seasonal variability of food sources.
---
Spotlight Elk Outfitter
New Mexico Trophy Hunt
The PICK Private Big Game Hunting Ranch is located in the Northeast corner of New Mexico, just 20 miles from Colorado, 35 miles from Oklahoma and 50 miles from Texas. Beautiful, mixed terrain supports many types of wildlife. We offer all-inclusive guided hunts for many animals. From the majestic and powerful Bull Elk to the elusive, deadly Mountain Lion; the cunning Merriam Turkey to the speedy Pronghorn Antelope; we surely have a hunt to suit you.

As a guest and hunter at the ranch your stay will include:

- 100% fair chase wildlife hunts (no high fence)
- A personal experience with small hunting groups
- Lodging in the Bunkhouse, a newly remodeled private house right at the lodge
- Excellent, home cooked meals
- Professional guide
- Four-wheel drive transportation around the ranch
- A relaxed and friendly atmosphere

We hunt approximately 30,000 private acres, spanning two thousand feet in elevation and set in some of the most unique and scenic land in the west. On the north side of the ranch irrigated alfalfa fields meet the Dry Cimarron River and rise over one thousand feet up forested and rocky canyons to the high prairie grass. From there you can see into the surrounding states on a clear day, or continue up another thousand feet to the tops of extinct volcanic formations. Gaze into the distance at Capulin Volcano National Monument and Sierra Grande Mountain, the largest single base mountain in the country.

This area is home to history of tribal people, conquistadors, homesteaders and outlaws. Buffalo roamed, treasures were hidden and the wild west unfolded. Please come and visit us in this beautiful corner of the Land Of Enchantment.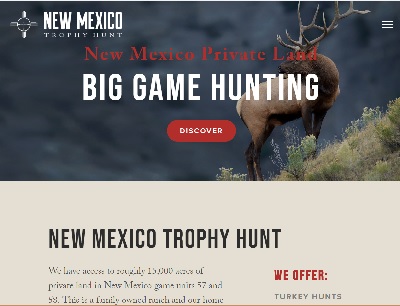 Species Offered
---
Antelope
Bear - Black
Cow - Elk
Deer - Mule
Elk
Mountain Lion
Turkey
---
For ALL Big Game, Waterfowl, Upland Bird, Varmint, and Small Game Hunts, visit Find A Hunt