Moose Hunts
Book a Moose Hunting Trip with Professional, Pre-Screened Big Game Hunting Guides and Outfitters
Moose Hunting
North America's largest big game animal. From Alaska to Newfoundland Canada, we've compiled a great selection of moose hunts, 95 in total. Shiras, Alaska-Yukon, and Canadian Moose hunts from reputable big game hunting guides and outfitters for that once-in-a-lifetime hunting experience. Guided and self-guided (drop camps, float trips) bow and gun moose hunts.
---
Top Moose Hunts (Gun)
---
Top Moose Hunts (Bow)
---
Moose Guide (Alces alces)
The moose is the largest member of the deer family, Cervidae. It is found in North America from Alaska to eastern Canada, south into the northwestern United States, and in Europe and Asia from Norway to Mongolia. The name moose is an American Indian word.
The moose is a massive animal with long legs, a large head, and an elongated, overhanging muzzle. A long flap of skin, called the bell, hangs beneath its throat. Large bulls may be 3.1 m (10 ft) in length, plus a short tail, and up to 825 kg (1,800 lb) in weight. Bulls typically also have large, broad, spoon-shaped spiked antlers, which may be 1.8 m (6 ft) across.
Of the four species of moose, the Alaska-Yukon moose is the largest, bulls can weigh in excess of 1400 pounds and stand 7 1/2 feet at the top of their hump. They inhabit Alaska, the Yukon and the western regions of the Northwest Territories. The Eastern Canada moose lives in more heavily timbered areas, and can be found in the Canadian provinces of eastern Ontario, Quebec, Newfoundland, and in the United States can be found in Maine and occasionally down into Massachusetts. The Shiras moose inhabits the southeastern regions of British Columbia and southwestern Alberta, as well as western states of Washington, Idaho, Montana, Wyoming, Utah and Colorado. The Western Canada moose is the second largest specie, and primarily inhabit areas of the Northwest Territories, British Columbia, Alberta, Saskatchewan, Manitoba and a few have been seen in the northern states of the USA.
If you've been wanting to go Moose hunting in Alaska or Canada, you're affordable adventure can start here at OutfitterPros.com
---
Spotlight Moose Outfitter
Total Outdoor Adventures
Here at Total Outdoor Adventures Ltd Big Game Outfitting is our number one priority. Our company owns and operates four large hunting concessions. Two concessions are located in the East Kootenay Region in South Eastern British Columbia, Canada. The areas are situated directly south of Banff National Park and north of GlacierNational Park offering some of the finest fair chase wilderness hunts for trophy elk, mule deer, whitetail deer, mountain goat, bighorn sheep, shiras moose, black bear, grizzly bear, mountain lion, bobcat and wolf.

In addition to the southern British Columbia operations we have another area in Northern British Columbia with exceptional Canadian Moose, Grizzly Bear, Black Bear, Wolf, Lynx and also take out clients on Trapline Adventures in pursuit of fur bearing animals while hunting Wolf and Lynx.

Our Alberta Bighorn area is located in the Kakawa Region of Alberta providing the sheep hunter with exceptional trophy sheep hunting.

Total Outdoor Adventures outfitters, guides and staff are dedicated to meeting each client's expectations, to provide a safe and comfortable environment in a wilderness setting and strive for excellence in the outdoor adventure industry.

Each member of the TOA team is qualified and competent with the standards, guidelines, ethics and goals set forth by the owners and outfitters.

Let the TOA team make your dream hunt come true!

OUR MISSION IS TO……provide each client with a genuine wilderness experience, an opportunity at a trophy of a lifetime and to operate at the highest level of professionalism in our industry.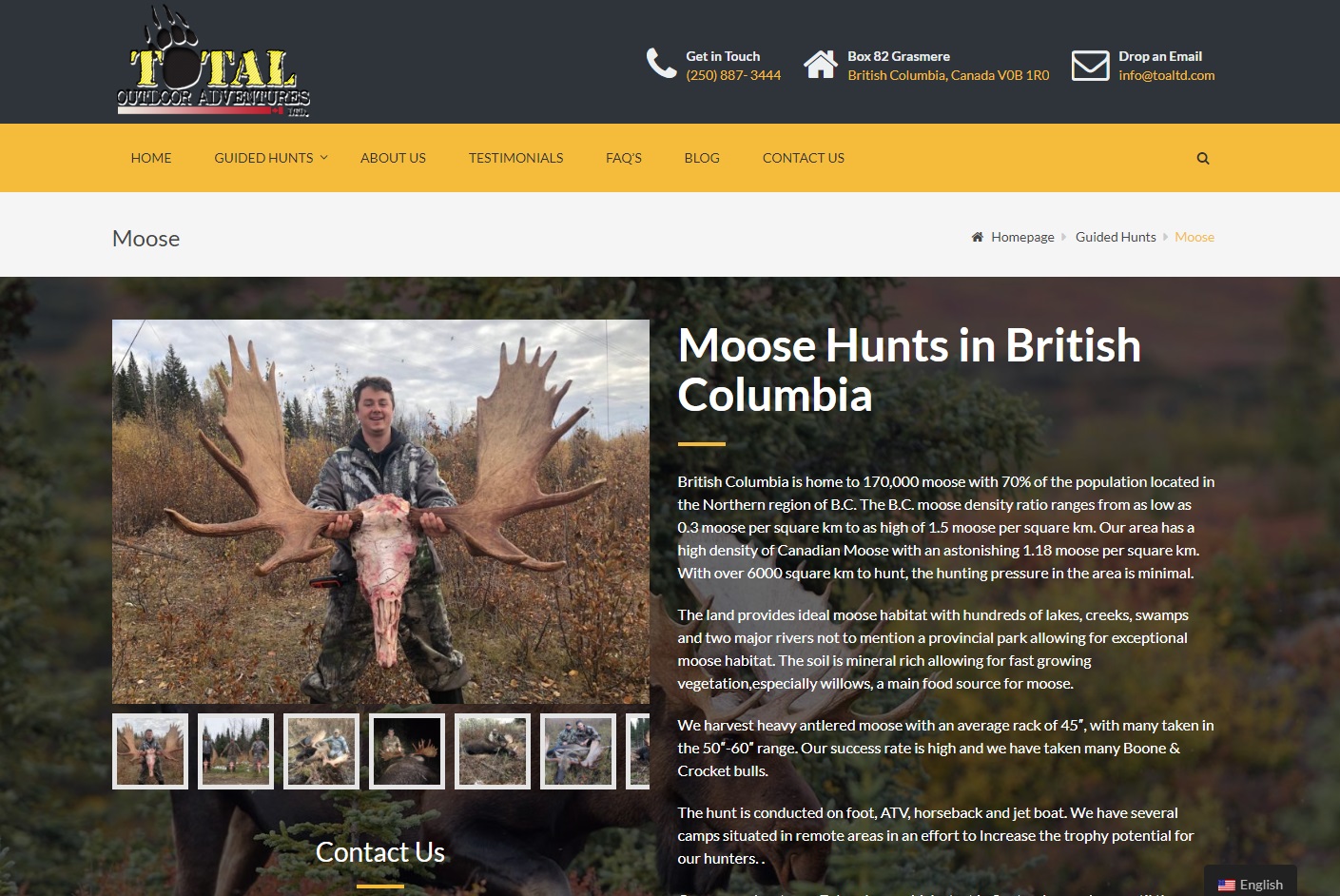 Species Offered
---
Bear - Black
Deer - Mule
Elk
Moose
---
Moose Range