Moose Hunts
Book a Moose Hunting Trip with Professional, Pre-Screened Big Game Hunting Guides and Outfitters
Moose Hunting
North America's largest big game animal. From Alaska to Newfoundland Canada, we've compiled a great selection of moose hunts, 94 in total. Shiras, Alaska-Yukon, and Canadian Moose hunts from reputable big game hunting guides and outfitters for that once-in-a-lifetime hunting experience. Guided and self-guided (drop camps, float trips) bow and gun moose hunts.
---
Top Moose Hunts (Gun)
---
Top Moose Hunts (Bow)
---
Moose Guide (Alces alces)
The moose is the largest member of the deer family, Cervidae. It is found in North America from Alaska to eastern Canada, south into the northwestern United States, and in Europe and Asia from Norway to Mongolia. The name moose is an American Indian word.
The moose is a massive animal with long legs, a large head, and an elongated, overhanging muzzle. A long flap of skin, called the bell, hangs beneath its throat. Large bulls may be 3.1 m (10 ft) in length, plus a short tail, and up to 825 kg (1,800 lb) in weight. Bulls typically also have large, broad, spoon-shaped spiked antlers, which may be 1.8 m (6 ft) across.
Of the four species of moose, the Alaska-Yukon moose is the largest, bulls can weigh in excess of 1400 pounds and stand 7 1/2 feet at the top of their hump. They inhabit Alaska, the Yukon and the western regions of the Northwest Territories. The Eastern Canada moose lives in more heavily timbered areas, and can be found in the Canadian provinces of eastern Ontario, Quebec, Newfoundland, and in the United States can be found in Maine and occasionally down into Massachusetts. The Shiras moose inhabits the southeastern regions of British Columbia and southwestern Alberta, as well as western states of Washington, Idaho, Montana, Wyoming, Utah and Colorado. The Western Canada moose is the second largest specie, and primarily inhabit areas of the Northwest Territories, British Columbia, Alberta, Saskatchewan, Manitoba and a few have been seen in the northern states of the USA.
If you've been wanting to go Moose hunting in Alaska or Canada, you're affordable adventure can start here at OutfitterPros.com
---
Spotlight Moose Outfitter
Trail Blaze Hunting Consultants
Trail Blaze Hunting Consultants specializes in guided, semi guided, DIY hunts and private property trespass hunts for all western big game species. We also specialize in Colorado, New Mexico, Nevada and Utah Landowner Vouchers (tags) for Mule Deer, Elk and Antelope.

We work with some of the best western big game hunting outfitters in the business and have access to hundreds of landowners who receive landowner deer, elk and antelope vouchers (tags). We also specialize in Alaska Trophy Moose, Brown Bear and Dall Sheep hunts along with world class Mexico Mule & Coues Deer and Desert Sheep hunts.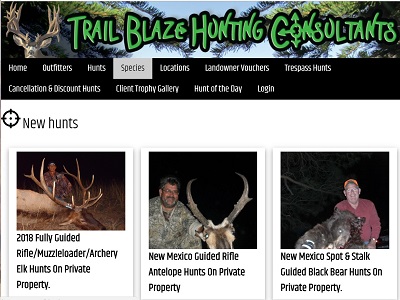 Species Offered
---
Antelope
Bear - Black
Bear - Brown/Grizzly
Bison/Buffalo
Deer - Coues
Deer - Mule
DIY - Elk
Elk
Exotics - All
Moose
Sheep - Big Horn
Sheep - Dall
Sheep - Desert Big Horn
---
Moose Range