Mule Deer Hunts
Book a Mule Deer Hunting Trip with Professional, Pre-Screened Big Game Hunting Guides and Outfitters
Mule Deer Hunting
From Monster Desert Mule Deer in Mexico to Trophy Mule Deer in Alberta, Canada, we compiled a great selection of Mule Deer hunts, 101 in total. Mule Deer hunts from reputable big game guides and outfitters for that trophy room filling hunting experience. Guided and self-guided (drop camps) bow and gun Mule Deer hunts.
---
Top 10 Mule Deer Hunts (Gun)
---
Top 10 Mule Deer Hunts (Bow)
---
Mule Deer Guide (Odocoileus hemionus)
Mule deer make their home in the Rocky Mountain region stretching from the northern most areas of Alaska and Canada clear down to the northern areas of Mexico. They are generally larger in overall size than a whitetail deer. The mule deer has several sub-species.
The desert mule deer is smaller in overall weight and antler mass than the Rocky Mountain mule deer. Its habitat ranges in the southern desert areas of the United States into northern Mexico.
Sitka black-tailed deer are also a sub-species that inhabit the coastal forest areas of southern Alaska and British Columbia in Canada.
The Columbia black-tailed deer inhabits the wet forested coastal regions of Oregon, Washington, northern California and British Columbia.
The mule deer gets its name from its large mule-like ears. Adult male mule deer are called bucks, adult females are called does, and young of both sexes are called fawns. Its closest relative is the black-tailed deer (considered by some a subspecies of mule deer). Unlike its cousin, the white-tailed deer, mule deer are generally more associated with the land west of the Missouri River. The most noticeable differences between whitetails and muleys are the color of their tails and configuration of their antlers. The mule deer's tail is black tipped. Mule deer antlers are bifurcated, or "fork" as they grow rather than branching from a single main beam (as with white-tails). Each year a buck's antlers start to grow in spring and are shed after mating season from mid-January to mid-April. Mule deer bucks have somewhat more prominent ears than females. Instead of running, mule deer move with a bounding leap (stotting) with all four feet coming down together.
The mule deer stands 40 to 42 inches at the shoulders and stretching 80 inches or so nose to tail. An adult buck will weigh from 150 to 300 pounds on the hoof, with does averaging 100 to 175 pounds. The occasional trophy-sized mule deer buck may weigh in around 400 pounds. The Mule Deer does not show marked size variation across its range as does the Whitetail Deer.
In addition to movements related to available shelter and food, the breeding cycle is important in understanding deer behavior and personality. The "rut" or mating season usually begins in the fall as does go into estrus for a period of a few days and males become more aggressive, competing for mates. Does may mate with more than one buck and go back into estrus within a month if they do not settle. The gestation period is about 190?00 days, with fawns born in the spring, staying with their mothers during the summer and being weaned in the fall after about 60?5 days. A buck's antlers fall off during the winter, to grow again in preparation for the next season's rut. For more information see main article on deer.
---
Spotlight Mule Deer Outfitter
Bitterroot Mountain Outfitters Inc
Any hunt that you book with an outfitter, it seems like it is never long enough. It's the memories you take home with you that make it not only last a lifetime but generations. We want to give you memories that you can take and pass down for generations to come. To do so, you will be hunting in some of the most pristine area that Idaho has to offer. Vast mountains covered by healthy forests, streams, and rivers, that provide a home for such amazing creatures. Our area consists of 167 square miles, and absolutely no roads that go through it! Everything is done by foot and horseback.

We offer guided hunts for Elk, Bear, Deer, Wolf and Cougar in the Bitterroot Mountain area of Idaho. We also can accommodate those who would like an unguided hunt, via a drop camp.

All elk hunts are 7 days. Guided or non-guided, you will arrive on the first day and ride into camp (do not expect to hunt on the first day), hunt the next 5 days, and then pack out and leave on the 7th day.

Deer hunting in Northern Idaho can be a real adventure. We hunt deer in Units 7, 9 and 10. The upper St. Joe River is known for its majestic whitetail and mule deer. We hunt these animals mostly on foot and some horse back, depending on the terrain. To be able to hunt deer in this area you should be in good physical condition due to the rugged terrain. We use the 'spot and stalk' method, and will most likely go where horses might not be able to get into.

Spring is the season for Bear Hunts. The bears in our area are 50% color phase and with the population of bears in great condition every year in Idaho means your chance of harvesting a bear is EXCELLENT! We are also proud to be able to say that for the past three years running, our bear harvest rate is better than it ever has been!

Talk about an adrenaline rush! Imagine being in a truck or on snowmobiles with dogs. Then all of a sudden, the dogs start baying because they caught the scent of a cougar. That's when you know the chase is on!

Come hunt turkeys in Eastern Washington. We have over 25 years experience with hunting these gorgeous birds. Most hunts are with a shotgun, but we can accommodate an archery hunter. We do provide meals and lodging. You will need to bring personal gear, bed roll, and weapon (a more detailed list will be given upon booking). Hunts are 3 days. If you are flying, we can arrange to pick you up and drop you off at the airport for an extra fee.

Visit our website for additional information on all of our big game hunts.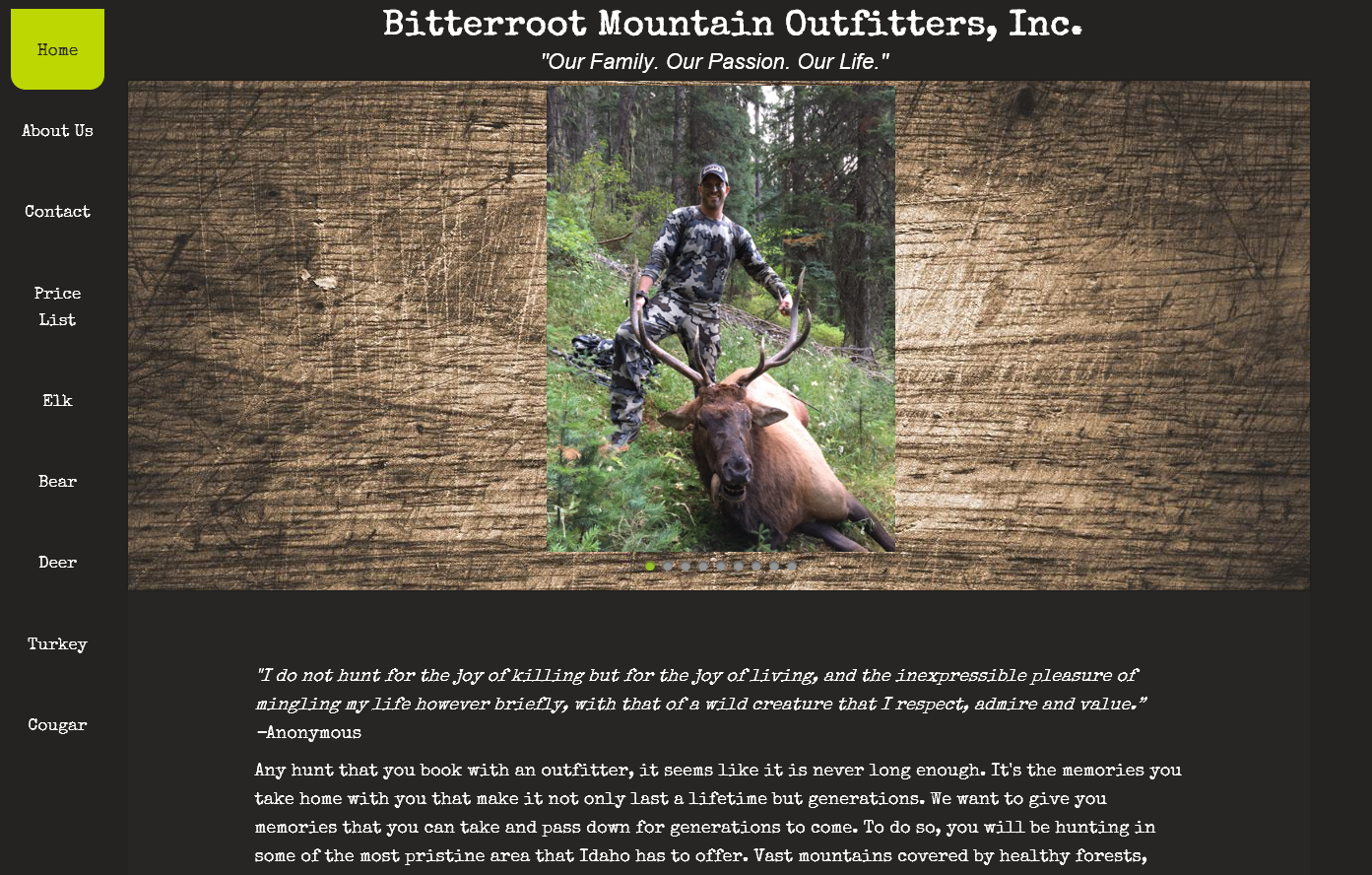 Species Offered
---
Bear - Black
Deer - Mule
Deer - Whitetail
DIY - Elk
Elk
Moose
Mountain Lion
Turkey
---
For ALL Big Game, Waterfowl, Upland Bird, Varmint, and Small Game Hunts, visit Find A Hunt