Nebraska Hunting Guides and Outfitters
Find and Book a Hunting Trip with Professional, Pre-Screened Nebraska Hunting Guides / Outfitters.
Nebraska Hunting
Trophy Whitetail Deer, Mule Deer, Merriams Turkey, and Pheasant top the list of the most sought after game in Nebraska. We'll help you find a professional Nebraska Hunting Guide / Outfitter for your next hunt, simply click Find A Hunt or select a gun or bow below after reviewing the Nebraska Hunting information.
---
Nebraska Hunting Summary
The Nebraska deer herd stands at 300,000 to 350,000. Nebraska has significant populations of two species of deer, the whitetail deer of the wooded river valleys and farmlands and the mule deer of the open plains and ranchlands. Either deer may be harvested with the state's deer tag, a real bonus for deer hunters. Furthermore, licenses/tags are sold over-the-counter, making Nebraska a top destination for trophy deer hunters.
Whitetail deer are found nearly statewide, but mule deer are the most common west of a line between Valentine and Lexington. Whitetails thrive in intensely farmed areas of eastern Nebraska. Whitetail range has expanded westward into areas formerly only inhabited by mule deer, and whitetails have become locally more abundant than the less wary, less productive mule deer.
The range of Merriams turkey subspecies and hybrid birds includes most major river drainages and the pine ridge. Small, isolated populations are found in appropriate habitat outside the primary range.
Pronghorn antelope rounds out the big game hunting opportunities in the Cornhusker State. Antelope hunting is one of Nebraska's most challenging big game experiences. Its speed, endurance and keen eyesight are well adapted to the short-grass prairies and gumbo badland of the western United States.
While ring-necked pheasant remains king, grouse, quail, woodcock, dove and partridge offer bird hunters a variety found in few other states.
---
Nebraska Hunts
Select the desired species & weapon below and click "Go"
Nebraska Whitetail Deer Hunts
Nebraska Turkey Hunts
---
Spotlight Nebraska Outfitter
DD Trophy Deer Outfitters
The DD Ranch offers a 4-night 5-day semi-guided hunting package for trophy Mule Deer and Whitetails. This semi-guided package includes all meals, lodging, and popular beer and soda beverages at the end of the day. The DD Ranch does offer guided and unguided hunts but the basic package is a semi-guided hunt. The DD Ranch consists of 70,000 acres of privately owned land in western Nebraska that sits adjacent to tens of thousands of acres of public land, giving our customers an unlimited amount of hunting ground. We are located near Chadron, Nebraska, which is on the Wyoming and South Dakota border. The DD takes a very limited number of hunters a year on the ranches to ensure quality trophy deer every year for every hunter. Only trophy deer are harvested. Our deer are 100% wild and not fenced. This is a TRUE hunt!! The DD Ranch also provides combination South Dakota and Nebraska deer, turkey and antelope hunts so hunters can have a double state grand slam!!

Being a hunter myself, I believe that every hunter wants to have a shot at a trophy deer and the DD provides that opportunity. The DD Ranch is a new hunting ranch and 2001 was the first year we took out hunters. Over the past 9 years, the DD has offered MANY TROPHY Whitetail and Mule Deer as well as MANY Merriam turkeys and antelope so I decided to start up a hunting camp. The DD Ranch requires each deer that is harvested to have a minimal of 4 points on at least one side. This will ensure trophy deer every year. Because the DD is a well know proven successful guide service and takes only a limited amount of hunters, we recommend that you book early.

The DD believes in superior hospitality. We will cater to almost all reasonable requests. We want our hunters to leave our ranches and honestly say that they had the hunt of their life. The DD will provide transportation from Chadron, NE and Rapid City, SD. We also provide all transportation on the ranches and the use of all terrain vehicles are used to transport downed game out of the field. We want our hunters to have the time of their life while away from home. We believe an excellent deer hunt requires more then just trophy deer. The fun really starts at the end of each day with a hot meal and all the beverages you want. We house our hunters in our main lodge, bed and breakfast facilities, and hotels depending on time of year and number of hunters in camp. All We want our hunters to become lifelong friends so I guarantee that our hunters will be catered to in the fullest. Do not be afraid to ask! We will try to accommodate to any request to ensure that your hunt was a success.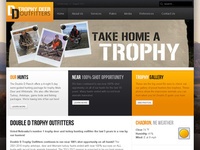 Species Offered
---
Antelope
Coyote
Deer - Mule
Deer - Whitetail
Mountain Lion
Pheasant
Prairie Dog
Turkey
---
For ALL Big Game, Waterfowl, Upland Bird, Varmint, and Small Game Hunts, visit Find A Hunt