Kansas Whitetail Deer Hunting Guides and Outfitters- Kansas Deer Hunts
Whitetail Deer Hunting in Kansas
Find and Book a Whitetail Deer Hunting Trip with a Professional, Pre-Screened Kansas Hunting Guide / Outfitter.
Whitetail Deer (Odocoileus virginianus)
OutfitterPros.com features 24 Whitetail Deer Hunts with 11 professional Kansas Hunting Guides and Outfitters. All outfitters are licensed, insured, and have passed our exclusive 5 Point Rating system. These are renowned Kansas Deer hunts for big heavy-racked Midwestern brutes with experienced Kansas Deer hunting experts.
---
Kansas Whitetail Deer Hunts
---
Spotlight Kansas Whitetail Outfitter
CK Outfitters
CK Outfitters is a personally run Kansas hunting guide service that makes it their business to know the needs of all deer hunters and turkey hunters that come to CK Outfitters Kansas hunting operation. CK Outfitters has 23,000+ acres that have been managed exclusively for the past 20+ years to reach the management quality deer that trophy deer hunting clients have grown to expect. The owners of CK Outfitters are always in camp during deer hunts and turkey hunts. CK Outfitters will be there to assist and guide you in all aspects of your deer or turkey hunt. It is our commitment to make your hunting deer or hunting turkey safe, enjoyable and successful. CK Outfitters always does its best to make your trophy hunt memorable, special and enjoyable! As hunters ourselves, we make the commitment to give you the type of hunt we ourselves would expect every time you enter the field. Your guides and Outfitters do not hunt Kansas they fill that is like eating the candy out of the candy store. Not here we are running our hunts to service you our clients!

CK Outfitters offers a limited number of Deer hunts in Kansas a year on our 23,000+ acres of Trophy whitetail deer hunting managed properties. The rifle and Muzzleloader deer hunt is a 5 day deer hunt on our Trophy whitetail managed property no other hunting of any kind is allowed on this property to protect the habitat and security of our trophy deer. Our archery hunt is limited to 1 week of 6 hunters and is a full 6 day hunt. (Muzzeloading in Sept. is the best time to harvest that trophy of a life time. The deer are by far the most predictable over any other time of year.)

What else is available to do if you fill your tag early and want to stay on or wait for you hunting partner?

The Turkey hunts are unbelievable in 2016 we had 110 tags and harvested 105 birds. This is very typical. The average hunt is only 1.5 days to harvest your birds.

Kenny Graham 660-269-8516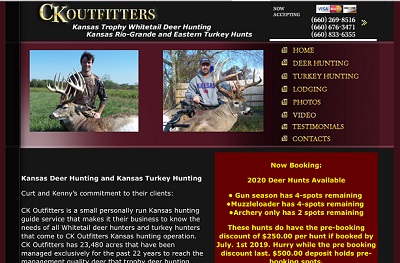 Species Offered
---
Deer - Whitetail
DIY - Whitetail
Turkey
Validation error occured. Please enter the fields and submit it again.
We have received your enquiry and will respond to you within 24 hours.