Turkey (Meleagris gallopavo). OutfitterPros.com features 8 Turkey Hunts with 7 professional Kansas Hunting Guides and Outfitters. All outfitters are licensed, insured, and have passed our exclusive 5 Point Rating system. Kansas offers both Eastern and Rio subspecies, with Easterns occupying roughly the eastern one-third of the state and Rios the western two-thirds. Where these populations meet, there are often hybrids. Out-of-state hunters are allowed to take two birds on hunts with most professional outfitters.
---
Kansas Turkey Hunts
---
Spotlight Kansas Turkey Outfitter
Pipe Creek Guide Service

Pipe Creek Guide Service is located in the heart of Kansas. We offer some of the best upland bird, whitetail deer, turkey, and predator hunting in Kansas.

We have archery, black powder and rifle hunts for Whitetail Deer. Our country has a lot of cropland, with woodlots and wooded creek bottoms mixed in. We have a good deer population, with some very nice bucks. In the season just ended our deer hunters had 80-85% opportunity on 140+ plus bucks, with a number of really nice bucks taken. Our Spring turkey hunters also did very well.

Archery season takes place during the pre-rut and goes through the rut and post-rut. Rifle season generally starts at the tail end of the rut/post rut. All bowhunting is done from tree stands overlooking trails leading to and from bedding/feeding areas. During rifle season you will generally hunt mornings and evenings from tree stands or good ground blinds.

We also have excellent pheasant and quail hunting. North Central Kansas generally has great habitat for upland birds, and our properties are no exception.

We have a modern, fully furnished lodge with all the comforts of home, washer/dryer, satellite tv, etc. Meals are the responsibility of the hunter, and we make available to you the kitchen/cooking facilities in our lodge at no extra charge.

We have two commercial airports less than 3 hours away in Kansas City and Wichita.

Species Offered

Bison/Buffalo

Bobcat

Coyote

Deer - Whitetail

DIY - Whitetail

Pheasant

Quail

Turkey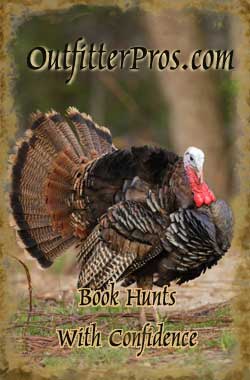 ---
Proud Supporter of:
---

Win Hunting Gear
Each hunter that completes a Find A Hunt form qualifies for monthly and quarterly prizes in our Giveaway Contest - Grand Prize: TC Bone Collector Triumph Muzzle Loader.
Save Time
One simple form matches your hunt criteria with pre-screened professional Big Game Guides and Outfitters.
Save Money
After you complete the Find A Hunt form, we'll provide you a link to our Twitter page where we share Hunting Deals and Specials - early bird specials, cancellation hunts, DIY hunts, group specials, etc.
Book With Confidence
Each Big Game Outfitter must pass our exclusive 5 Point Outfitter Rating System in order to have their hunts listed in our database.
---
Proud Supporter of:
---
MORE Hunts
Click a Link Below for other Top Hunts