Whitetail Deer (Odocoileus virginianus). OutfitterPros.com features 12 Whitetail Deer Hunts with 6 professional Ohio Hunting Guides and Outfitters. All outfitters are licensed, insured, and have passed our exclusive 5 Point Rating system. These are renowned Ohio Whiteail Deer hunts with experienced Ohio Deer hunting experts. Archery, muzzleloader, and shotgun hunts for those heavy-racked Mid-Western trophy whitetails.
---
Ohio Whitetail Deer Hunts
---
Spotlight Ohio Whitetail Outfitter
Misty Morning Outfitters Ohio

Welcome to Misty Morning Outfitters Ohio. Many of you may have already heard of us through our Kansas operation. Well we have now added Ohio to our team! When choosing to hunt with Misty Morning Outfitters in Ohio, we can guarantee you that enjoy the same quality of hunting experience, along with the same professionalism you're accustomed to when hunting with us in Kansas.

One of the many benefits and a very important point about hunting in Ohio, is that non-resident licenses and tags are available over the counter! That's right, they're available over the counter and can be purchased at any WalMart or even on the internet! Currently non-resident hunting licenses run $141.50, with deer and turkey tags costing $41.00.

Ohio not only offers over the counter tags, but has become one of the premier whitetail destinations in the United States. With a mixture of flat ground, rolling hills and even some steep mountain like terrain, Ohio has vast amounts of hardwood flats, with a large amount of white and red oak trees. There are also acres upon acres of corn, soybean, wheat and even a few milo fields. This combination of terrain, thick timber cuts, open tracks of timber, creek bottoms and the seemingly endless amount of crops, makes Ohio a perfect location to grow big mature whitetails and big eastern gobblers.

After reading this we know you will feel the same excitement as we do about hunting big whitetails and hard hammering eastern gobblers with Misty Morning Outfitters Ohio. Please contact me Jon Burke (Operations Manager) at 6146795625.


Species Offered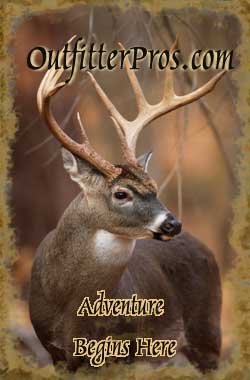 ---

Win Hunting Gear
Each hunter that completes a Find A Hunt form qualifies for monthly and quarterly prizes in our Giveaway Contest - Grand Prize: TC Bone Collector Triumph Muzzle Loader.
Save Time
One simple form matches your hunt criteria with pre-screened professional Big Game Guides and Outfitters.
Save Money
After you complete the Find A Hunt form, we'll provide you a link to our Twitter page where we share Hunting Deals and Specials - early bird specials, cancellation hunts, DIY hunts, group specials, etc.
Book With Confidence
Each Big Game Outfitter must pass our exclusive 5 Point Outfitter Rating System in order to have their hunts listed in our database.
---
Proud Supporter of:
---
MORE Hunts
Click a Link Below for other Top Hunts