Whitetail Deer (Odocoileus virginianus). OutfitterPros.com features 16 Whitetail Deer Hunts with 8 professional Ohio Hunting Guides and Outfitters. All outfitters are licensed, insured, and have passed our exclusive 5 Point Rating system. These are renowned Ohio Whiteail Deer hunts with experienced Ohio Deer hunting experts. Archery, muzzleloader, and shotgun hunts for those heavy-racked Mid-Western trophy whitetails.
---
Ohio Whitetail Deer Hunts
---
Spotlight Ohio Whitetail Outfitter
Sunfish Valley Whitetails

Enter the Sunfish Valley Whitetail Zone - where fair chase is the only way to go. We offer fully guided whitetail hunts on 15,000 privately owned acres, or nearly 24 square miles, in South central Ohio. Our bucks are low pressure, big woods bucks that are given the opportunity to mature into trophy bucks.

Why We're Better

One of our best advantages? We don't lease the land we are outfitting... We Own It! With over 15,000 acres of land in a five county area, we don't have to play the numbers game like most outfitters just to pay their land leases.

When you book a guided bow hunt with us, there will never be more than 12 hunters on our 10,000 acres of bow hunting only property. This eliminates the problem of over-hunting the ground and chasing the deer off our properties. It also means that our hunters don't have to harvest our 2 1/2 and 3 1/2 year old bucks because they won't see anything better. This gives our bucks a chance to mature, reach their full potential, and pass on their genetics.

Another advantage for us is there is no pressure from other outfitters, unlike some areas of the country where almost every piece of ground is leased or hunted by an outfitter or hunting club. This keeps our deer relaxed, going about their daily routine like nature intended. We are the only outfitter in this area and one of our goals is to minimize pressure by keeping the number of hunters to a minimum.

Even with hunts fully booked, there will only be 12 hunters in camp at a time. That allows us to provide you with personal service. That's hard to get when there are 30 hunters in camp. Every evening you will get to sit down with the camp manager and your guide, discuss the days events and make plans for the next day. You will be a part of the decision making process during your hunt.

Our goal is for you to have a great hunt! We have experienced, mature guides -- not taxi drivers. Our hand-picked guides have a genuine love of the hunt and a desire to share that excitement with others. It is their job to try to get you on the buck of a lifetime! We do NOT allow our guides to hunt the properties that our clients hunt, so they are never scouting for themselves.

Species Offered

Deer - Whitetail

DIY - Whitetail

Turkey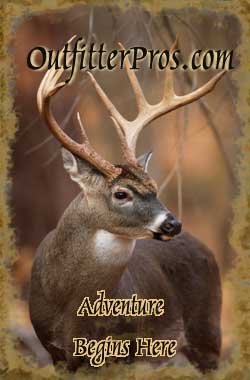 ---

Win Hunting Gear
Each hunter that completes a Find A Hunt form qualifies for monthly and quarterly prizes in our Giveaway Contest - Grand Prize: TC Bone Collector Triumph Muzzle Loader.
Save Time
One simple form matches your hunt criteria with pre-screened professional Big Game Guides and Outfitters.
Save Money
After you complete the Find A Hunt form, we'll provide you a link to our Twitter page where we share Hunting Deals and Specials - early bird specials, cancellation hunts, DIY hunts, group specials, etc.
Book With Confidence
Each Big Game Outfitter must pass our exclusive 5 Point Outfitter Rating System in order to have their hunts listed in our database.
---
Proud Supporter of:
---
MORE Hunts
Click a Link Below for other Top Hunts